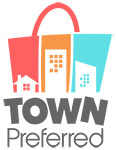 Make from $50,000 to as much as $300,000 and more.
Everything you need to be in business within a week and making money within a month.
Town Preferred, a highly regarded Software as a Service provider, offers an extraordinary opportunity: Have an enviable lifestyle helping youth sports, schools, scouts, churches and other community organizations to make money with the best fundraising solutions for nonprofits in North America. Provide small businesses in and around your town with revenue streams and an advertising platform while supporting nonprofits.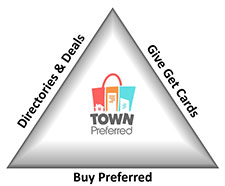 Do you want to:
Build your own internet business that is open 24/7?
Be rewarded quickly for your work?
Support nonprofits and businesses directly and connecting them with one another?
Be highly respected in your community?
See your income and net worth increase every year?
Can you:
Introduce nonprofits to our exclusive fundraising solutions which include print and electronic Cards and a voluntary donation system?
Invite small businesses to advertise and offer deals to support local nonprofits while making more than with Groupon?
Routinely monitor your dashboards?
Maintain a database of nonprofits and businesses in your market?
Keep learning?
If so, you will automatically get paid for:
Every printed Card sold by each nonprofit.
Every eCard Preferred purchased online from your website.
Every one of your Deal sales.
All Directory advertising.
Both the number of nonprofits needing to raise funds and the amount of funds they need to raise increase every year. We have introduced Town Preferred Cards, the signature of fundraisingSM. Fifty percent of the face value of every card goes directly to the nonprofit and the buyer spends 50% at BuyPreferred.com, which features over eight million constantly updated books, CDs, DVDs, Blu-ray and other products, as well as Deals- all sold for at least 30% off the suggested retail price. Cards are the most effective way for nonprofits to raise the most money. Virtually every type of nonprofit is using Cards to raise funds.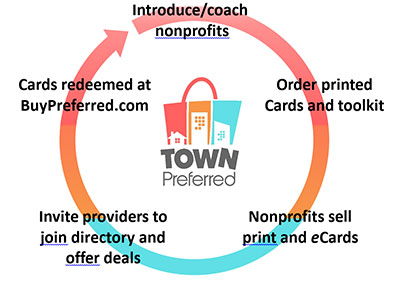 Nonprofits raise an average of more than $13,000 from their first Cards Preferred program, earning the licensee a profit of more than $2,600 from every account, every year. Prospects should have some understanding of product fundraising and must be capable of and pleased and proud to introduce nonprofits to the best product fundraising solution by any measure.
Our best-in-class fundraising solutions are available to nonprofits at absolutely no cost or obligation - ever. Work from wherever you want, making money online, 24/7. Do well, doing good.
Solutions for businesses large and small. The top two priorities of small businesses are to retain their customers and obtain new ones. Directory Preferred does both by providing more features and benefits, for less, than any other solution. Businesses you work with get an advertising platform and improve internet branding while supporting nonprofits. Businesses prefer our deals program because they make 60% more than with Groupon while supporting the important nonprofits in their town.
We're actively seeking individuals, couples and partners to acquire Town Preferred licenses for as little as $24,450. This onetime fee provides everything you need to be in business within a week and making money within a month, including:
An exclusive market
Your own customized Town Preferred site and store system
Your own customized Directory Preferred advertising and deals site
Initial and ongoing training and a resource library
On call support
Continually improved systems.
A customized dashboard to monitor all transactions in real time, with commissions paid automatically
Licensee sites feature a system for hiring and tracking subordinate account managers and coordinators.
You can start part-time and begin making money immediately. Each nonprofit campaign nets an average of $3,000 per year for the licensee and there is no limit. Licensees make an average of $50,000 beginning part time, or over $100,000 working full time.