Become a Sculpture Hospitality Franchisee:
The Profit Enhancement Experts for the Hospitality Industry
This is your chance to own a top-ranking, low-cost, home-based, self-rewarding franchise
Who are we?

Since 1987, Sculpture Hospitality's Liquor Inventory Control and Profit Management System has helped thousands of bar and restaurant owners cut wastage and increase profits. By analyzing and auditing liquor, beer and wine inventory, we identify losses and develop corrective strategies that result in substantial savings for our clients. Every year, the hospitality industry loses 25% due to theft, over-pouring, carelessness and waste. For a typical bar or restaurant generating $500,000 in business, that represents $125,000 annually. Imagine being the franchisee who can offer the good-news solution that will dramatically cut those losses in a market with virtually zero competition!

The best thing I get out of being a Sculpture Hospitality franchisee is when an owner comes to me and says I am the best money he has ever spent. I enjoy helping bar owners become more profitable and of course they are grateful and very happy to see me walk through those doors.
Sculpture Hospitality Franchisee
Why invest in Sculpture Hospitality?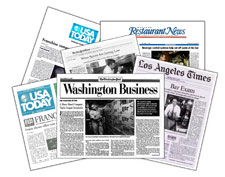 A rewarding opportunity with plenty of potential. Sculpture Hospitality is proudly ranked in Entrepreneur magazine's Franchise 500® for its seventh year at #129, and #86 among fastest growing franchises. Sculpture Hospitality was also recognized in Franchise Business Reviews Top 50 Franchisee Satisfaction Awards, ranked #44. In a market that is largely untapped, Sculpture Hospitality is the world's original and number one on-premise liquor inventory control solution. With impressive growth in key markets, Sculpture Hospitality has roughly 300 franchisees, performing over 50,000 audits annually in over a dozen countries. Newsweek reports, Back of the napkin math suggests that if all establishments signed on with Sculpture Hospitality, they could avoid roughly $10 billion in annual losses. Find out why the media is buzzing about Sculpture Hospitality: The New York Times, The Wall Street Journal, The Washington Post, USA Today, Los Angeles Times, Nation's Restaurant News and many many more! Sculpture Hospitality has also been seen on Spike TV's hit show, Bar Rescue. Featuring expert, Jon Taffer, rescuing bars across the Nation!
10 Reasons to Become a Sculpture Hospitality Franchisee:
Low investment and start-up costs. You can own your home-based franchise in our exclusive, protected territories for as little as $39,900 and equipment costs less than $1,500.
Potential for lucrative revenues. Create the lifestyle you want. It takes only a dozen clients to gross well into six figures annually.
High demand for service. The world's best restaurants rely on Sculpture Hospitality! In good times and recessionary times our service offering is always in demand. It is the nature of the bar business. We also continually add to the Sculpture Hospitality product portfolio so franchisees have more to offer.
Proprietary software and proven processes. Our easy-to-use, scalable and customizable software results from years of experience and excellent technical support. Plus, we always listen to franchisee feedback for our upgrades.
Extensive training. Our franchisees come from all walks of life, so you don't need prior experience to be with Sculpture Hospitality. You'll spend a week in our Corporate Training Centre learning the ropes. Our Corporate Trainer is also a Regional Director so nobody knows the business better. We'll focus on our software, audit procedures and best practices, as well as introduce you step-by-step to our detailed business model that will help you manage and grow your business. Following this, you'll spend a week in the field shadowing the Sculpture Hospitality Regional Director who heads up your territory.
Continuous professional and personal development. A Sculpture Hospitality franchise is a proven, scalable business opportunity. You'll most likely start out working alone, but can quickly grow as you add employees. We'll teach you how to recruit, train, motivate and manage your auditors and advise you on how to acquire and retain clients. Your Regional Director will work closely with you to build your business success. Your fellow franchisees will offer you an unparalleled support network of knowledge and experience.
Marketing, advertising and sales programs that work for you.

An informative website, loaded with resources
A members only Intranet to support Sculpture Hospitality franchisees
An extensive lead-generation program
National tradeshows
Partnerships with key industry players
Membership of nightclub, bar & restaurant associations
Small Business Association (SBA) approved, International Franchise Association (IFA) member
Targeted national and local press coverage
Sculpture Hospitality educational webinars/online training
Regional networking meetings and Sculpture Hospitality annual convention

Strong Brand. As the original on-premise audit service and a company that has been around for over 25 years, Sculpture Hospitality is well known in the hospitality industry. We are respected for the value we bring to our clients and are recognized as the most efficient inventory control and profit management solution in the industry.
Reasonable Royalties. Sculpture Hospitality royalties are still among the lowest in the franchising world - especially given we are a well established proven concept and our franchisees benefit from the association of a brand name with international recognition.
On-going Support. Sculpture Hospitality offers on-going corporate, technical, marketing, and sales support. We have an in-house technical support analyst and Corporate Office team on-hand for assistance. Our knowledgeable and helpful staff are only an email or a phone call away and our free in-depth Intranet service is chock full of tools and is available 24/7.
Sculpture Hospitality allows me to earn a good living yet spend more time with my family. I have a great business with no inventory or overhead to manage. I can work from home yet I have the ability to grow with employees to earn a great living.
Sculpture Hospitality Franchisee
Maximum Benefit. Minimum Risk. Business Success.
Apply for Your Franchise Today!
To learn more about joining the growing team of Sculpture Hospitality franchisees, simply complete the form on the right. We'll be in touch with you shortly.
Prime territories still available, inquire today while they last!
Social Reach:
This web page does not constitute a franchise offering or an offer to sell a franchise. A franchise offering can be made by us only in a state if we are first registered, excluded, exempted or otherwise qualified to offer franchises in that state, and only if we provide you with an appropriate franchise disclosure document.
For over 27 years, Sculpture Hospitality franchisees have helped bar and restaurant owners become more successful everyday using their proven methods.
Browse:
Request Information
Looking for more information about Sculpture Hospitality? Take a moment to fill out our quick information request form.