Looking for a Dynamic Opportunity?
Floods4Less wants to share the prosperity.
A better franchise concept. A better return on investment. A better financial future for you and your family. And here are the reasons why:
Floods4Less Offers 3 Franchise Businesses For The Price Of One
Floods4Less Offers Franchisees Larger Exclusive Territories Than The Competition
Floods4Less Offers A High Margin Business
Floods4Less Offers 35 years experience, Full Service Disaster Restoration
Here are even more reasons why you should consider purchasing a Floods4Less Franchise:
As a Floods4Less Franchisee, you will control your own business backed by a knowledgeable Floods4Less management team with 35 years of experience and a proven low-cost full service disaster restoration business model.
Floods4Less is the only Franchisor providing DOUBLE THE SERVICE - HALF THE PRICE®. One of the ways we have done this is through the utilization of our exclusive Floods4Less Hub Management System® which we offer to our franchisees to provide them with more bottom-line income.
The insured catastrophe losses market in the United States totaled $25.8 billion in 2010 (Insurance Information Institute, Inc.).
Floods4Less provides its Franchisees with larger exclusive territories than the competition, ranging from 33% to 50% more population base and geographical area.
Floods4Less provides 3 franchise opportunities for the price of one. Many restoration franchise companies separate their franchise opportunities into Emergency Service, Repairs and Contents market segments and charge separate franchise fees for each.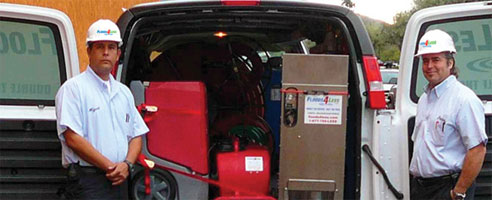 An Extraordinary Business Opportunity
As a Floods4Less franchise owner, you will have the opportunity to participate in the multi-billion dollar disaster restoration industry. It is an industry that has proven to be recession-resistant with substantial upside potential for future growth. Your all-inclusive franchise package will include:
Comprehensive training: We will provide the training you need to be successful in every aspect of running your Floods4Less business.
Personalized support: Once you are operational, you can rely on on-site and remote support, plus ongoing developments in new products, services and trends.
Exclusive business operating system technology: Our proprietary Floods4Less Hub Management System® is a centralized online web-tool that records all leads and stores information on all phases of projects. Homeowners, insurance adjusters, property managers and facility managers may access it to expedite service, check on job status and more. It ensures the best possible service and facilitates your open communication with clients. Franchisees also have access to exclusive Floods4Less Hub Management System® programs to help simplify marketing and prospecting activities.

Increase your cash flow and watch your Floods4Less business grow through our intuitive Hub Management System®.
Stay in control of your financial information with the Hub Management System® Accounting Package.
Attract new clients and retain the ones you already serve with the Hub Management System® Marketing and Communication services. Our marketing programs are integrated with our Hub Management System® software for easy prospect tracking, increased conversion ratios, and higher marketing success rates.

A proprietary operations manual: You will have access to this valuable operating tool, detailing established standards and procedures, with periodic updates, that help guide your efficient daily business operations, both when you launch your business and for the term of your franchise.
A state-of-the-art call center: Our professionally-trained staff fields calls through a central toll-free number, gathers the sales lead information, and then appropriately routes calls to local franchisees.
Assistance with site selection: We will provide guidelines for finding an appropriate warehouse and office, typically 2,000 square feet of space. We will work with your local real estate broker to negotiate the most advantages lease terms on your behalf.
Vehicle guidelines: You will have our specifications for a branded van to accommodate the water extraction system, equipment and personnel.
Marketing assistance: We will provide cost effective and targeted materials you need to get the Floods4Less name and brand in front of insurance companies, homeowners and other potential clients. Our name and reputation are yours to leverage as you endeavor to be included on the preferred vendor lists used by local insurance professionals and individual policy holders.
Purchasing discounts: You will benefit from relationships to get unmatched prices on the best possible products and equipment for water extraction, drying and deodorizing, as well as rebuilding and restoring.
Life, disability and health insurance for Franchisees: We will assist you to obtain the life, dental, disability and health insurance benefits you require.
Performance and surety bonds: We will assist Franchisees to obtain the surety bonds needed to secure lucrative insurance and government contracts. This would include assistance to obtain a bond to satisfy your licensing requirements for the Contractors State License Board in your state.
Social Reach:
If you've always wanted to be your own boss, Floods4Less has a great system to offer you.
Browse:
Request Information
Looking for more information about Floods4Less®? Take a moment to fill out our quick information request form.