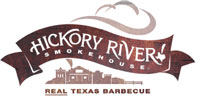 Welcome to Hickory River Smokehouse.
For a Taste and an Opportunity as Big as Texas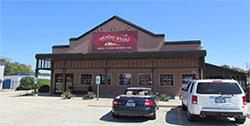 As one of the hottest, up and coming barbecue restaurant franchises in the Midwest, we're generating a lot of interest. And a lot of profit for our franchisees.
Award-winning barbecue, side dish and sauce recipes. Straightforward, well-documented operational and business management support. Engaging marketing and advertising in support of a well-defined, loyalty-building brand. Extraordinary sales opportunities with in-store, drive-through, carry-out and off-premise catering, as well as delivery of bulk "Group Meals." Best of all, the food we prepare and serve at Hickory River Smokehouse isn't something just anyone can make (unless they have a commercial-grade smoker and a professional BBQ pitmaster in the neighborhood).
Typically, all it takes to get people excited (and raving to their friends) about Hickory River Smokehouse is a single in-store visit. Once they "smell the smells," and ESPECIALLY after they take their first bite of our signature Hickory-smoked meats, they're pretty much hooked!
"People ask me how we got involved with Hickory River Smokehouse and I simply say, "We ate there once!" It is simply the best barbecue we had ever tasted and we had to be involved. So we partnered with founders Brad and Krista Bowman to open more Hickory River restaurants. Do yourself and your family a favor today. Get to the closest Hickory River Smokehouse and try it for yourself. We are confident you will agree that it is the best!"
Mike Madigan -- Owner/Partner, Central Illinois stores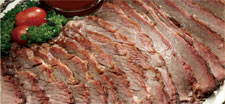 Our diverse menu, range of prices, and casual, cafeteria-style service appeal to people of all ages and economic positions. Does becoming "your own boss" as the owner/operator of a Hickory River Smokehouse seem like an exciting idea?
There's a great story to tell about the founders of Hickory River Smokehouse, about their incredible, Texas-inspired recipes and methods of cooking and about their extraordinary franchise opportunity. If you're interested in learning more, and you meet the requirements listed to the right, we invite you to complete the inquiry form and send it our way. We'll be back in touch--and ready to answer your VERY important questions about whether Hickory River Smokehouse is the business opportunity you've been looking for!
We have always wanted to own our own business. When the opportunity came for us to purchase Hickory River Smokehouse in Tipp City, Ohio we jumped at the chance to do just that - have a business of our own. We knew Hickory River Smokehouse was a successful and unique restaurant franchise opportunity. And what's not to love, the food is amazing and the concept is original and refreshing. Owning a Hickory River Smokehouse franchise was the best decision we have ever made, for our family, our careers, and our future. And business has never been better!"
Dan and Maria Davis - Owners, Tipp City store