The Kidville Story
The Kidville concept started when Shari Misher Stenzler, co-founder of London Misher Public Relations in Manhattan, found herself carrying her baby and stroller down a long flight of stairs for her child's first music class. "There must be a better way," she thought and began informally polling friends and fellow parents about their needs.
After gathering fellow Kidville Founders Cosí co-founder Andy Stenzler, tennis stars Andre Agassi and Steffi Graf, philanthropist Laurie Tisch, Emanuel and Liz Stern (HartzMountain Realty/Tribeca and SOHO Grand Hotels), Richard Chapman and Gordon Hamm (GMC Parking Chain) and Kidville President Rammy Harwood the Kidville concept was born.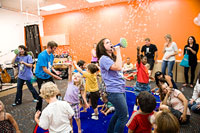 The #1 Choice for Parents
Kidville operates large, upscale facilities catering to young children and their families.  Kidville started in New York in 2004 with the simple goal of making the lives of families with young children better and easier. Kidville is dedicated to offering fun, age-appropriate classes where each child can learn through play and exploration. Our programs are designed to instill confidence and help each child grow physically, socially, and cognitively in a safe, stimulating environment. In addition to offering a wide range of developmental classes for newborns through six year olds, Kidville also features an indoor playspace, birthday parties for children up to age nine, and at select locations, a retail Boutique and the Kidville Salon.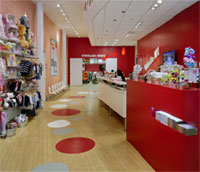 By offering high-quality gym, music, art, enrichment classes and a variety of services all under one roof, Kidville fills a void in the previously fragmented early childhood sector. All of Kidville's programs are developed by an in-house team of early childhood development experts which enables us to keep classes fresh, up-to-date, and most important, fun! Kidville remains the #1 choice for parents and children in our communities.
Kidville Is Now Franchising
Kidville started franchising in June of 2009 and has already reached the Entrepreneur top 500 franchise list. As Kidville continues to build momentum in the marketplace, our mission has expanded to grow our concept into family-centric communities via franchising. Our franchise program allows us to share the Kidville concept with new communities faster by leveraging the local knowledge and passion of our franchise owners. Combining local attention with Kidville's brand power and proprietary systems, you have the ability to open your own business quickly with the full support of our experienced team.
Initial Investment
Kidville offers flexible franchise models to accommodate varying investment capacities and market opportunities. Our Hub model maximizes customers in metro urban areas while our Annex model serves suburban markets. Hub locations have an initial investment range between $450K-$900K, while Annex locations range between $300K-$420K. Both models have the ability to offer all Kidville classes, birthday parties, camps, playspace, and special events.
You are able to choose the model or combination of models that best suits your community's needs and personal investment capacity.
Site Opportunities
Opportunities are currently available in select cities in the US and international markets. Kidville has developed a household name and brand dominance in major cities across the country including New York, Los Angeles, Miami, and Dallas. Internationally, Kidville facilities have opened in the Middle East and will be opening in India in late 2011.
Franchise Support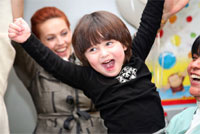 Kidville offers the support and training you are look for when deciding to purchase a franchise.
Strategic site selection
Dedicated lease negotiations
Construction management
Comprehensive training
Extensive ongoing support
Our franchisee support demonstrates Kidville's continued commitment to excellence.
Accolades
Named "Best of" by New York Magazine
Given a five star "extraordinary" customer rating in the lilaguide: New Parent Survival Guide
Ranked in Entrepreneur's Top 500 Franchise List
"Rarely does a company come into a mature multi-billion dollar sector, like Kidville has done with early childhood developmental classes and services, and completely reinvent the customer experience on all fronts. By combining innovative programming, superb business processes, proprietary content, and proprietary systems with a world class management team, Kidville has created an excellent franchise opportunity."
Michael H. Seid, Managing Director of Michael H. Seid & Associates, the nation's leading franchise advisory firm, and co-author of Franchising for Dummies with the late Dave Thomas, founder of Wendy's.
Join our Family
With all that Kidville has to offer families, we are excited to help new franchise owners bring the concept to their own communities. Become a Kidville owner now as we expand into new markets via our franchise program!