Great Food. Genuine Hospitality.
McAlister's Famous Sweet Tea™.
A Recipe for Franchise Success!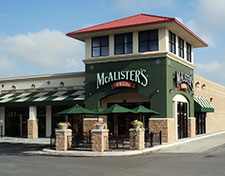 At McAlister's Deli, guests have enjoyed our great tastes and genuine hospitality since 1989. Our unwavering commitment to hospitality and iconic McAlister's Famous Sweet Tea™ gives us a unique position in the attractive fast casual restaurant segment.
Our unique operating platform allows us to deliver quality food to our guests in an efficient operating environment. McAlister's is an attractive investment opportunity and now is the time to join our growing family of successful franchisees.
Why McAlister's Deli?
McAlister's Deli -- offers an extensive menu of American regional favorites including made to order sandwiches, salads, spuds and our Famous Sweet Tea™ -- is an attractive franchise investment that offers:
Average unit sales over $1.5 million
consistent same store sales increases
extensive catering opportunities
attractive sales to investment ratio
exceptional unit sales volumes
award-winning quality food and beverages
industry leader in hospitality
Industry Awards
McAlister's Deli has also been recognized with top rankings in the industry making us one of the most successful franchise opportunities in the U.S. Recent accolades include:
2014 Nation's Restaurant News Consumer Picks #1 Sandwich limited-service restaurant
2013 Ranked #2 in Top 25 of Fast Casual Top 100 Movers and Shakers
2013 Inaugural Winner of the Technomic® Chain Restaurant Consumers Choice Awards in Fast Casual Category for Food and Beverages
2013 Top Performing Fast Casual Restaurant in Service & Hospitality, Food & Beverage and Value Technomic® Consumer Brand Metrics
Is McAlister's Deli Right for You?
McAlister's Deli's most successful franchisees are:
Multi-unit foodservice operators
Focused on executing to brand standards
Committed to offering genuine hospitality
Successful business leaders with the ability to build a strong team
Qualifications Requirements
McAlister's Deli is seeking franchisees who individually or collectively meet the follow criteria:
For Multi-Unit Franchisees
$1.5M net worth, $750K liquid assets
Previous multi-unit restaurant experience
Committed to executing to brand standards and offering genuine hospitality