NAPA AUTO PARTS Business Opportunity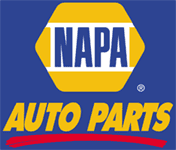 Would you like to experience the freedom, sense of community, and financial security that come with owning a NAPA AUTO PARTS Store? Would you like to be part of a system supported by a Fortune 250 company that has experienced sales growth in 80 of its 84 year history including The Great Depression and every Recession since?

Why NAPA? Five Simple Reasons...
Equity: Our owners tell us that NAPA AUTO PARTS stores are solid investments that offer the opportunity to build real wealth over time.
Income: The NAPA AUTO PARTS lifestyle is one of hard work and hands-on business ownership, and with your dedication comes a solid earnings opportunity.
Freedom & Pride of Business Ownership: Experience the freedom and independence that come with owning your own business.
Community: From sponsoring the local team or participating in the town parade to serving as volunteer firemen, community involvement is one of the central tenets to NAPA store ownership.
The NAPA System

Brand: NAPA is the #1 brand in the industry, and 91% of do-it-yourself customers recognize the name.
Unmatched Parts Availability: With more than 400,000 quality parts, 6,000 store locations, and 64 strategically placed distribution centers, the NAPA system is dedicated to having the parts you need, when you need them.
Training & Support: You'll have the entire NAPA team behind you every step of the way, including our New Store Owner Training Program.
Financial Support & Incentives: Preferred financing programs are available through NAPA's financial partners designed to help you achieve your dream. And since we are not a franchise, there are no costly franchise fees!
Who We Need
We are looking for "The Working Investor" - hands-on business managers who work hard, desire more, and keep their eye on building wealth.
Is one of your primary goals to build wealth?
Are you passionate about hands-on business ownership?
Do you enjoy working with people?
Are you driven to success with a strong work ethic?
Are you able to make an initial investment of $75,000 - $150,000?
Please contact us to see if the NAPA system and you are right for each other. We are expanding in all states and international opportunities are available. Become a part of Team NAPA and Inquire Now!
Social Reach:
Come learn about The NAPA Story: equity, income, freedom and pride of business ownership, community, and the backing of the #1 brand in the...
Browse:
Request Information
Looking for more information about NAPA AUTO PARTS? Take a moment to fill out our quick information request form.