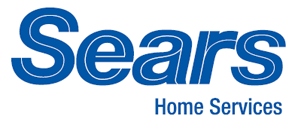 About Us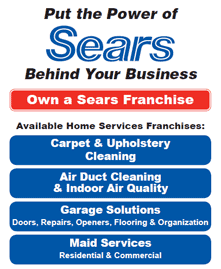 Sears Holdings is the nation's largest provider of home services with more than 14 million service and installation calls made annually. We are committed to improving the lives of our customers by providing quality services, products and solutions that earn their trust and build lifetime relationships. Our Sears Blue Service Crew team members are "trusted advisers" for millions of America's homeowners.
You can become part of the Sears family and tradition by purchasing a Sears Home Services franchise. We are seeking entrepreneurs who want to own their own business and be their own boss.
Four (4) home services franchise business models are available:
Carpet & Upholstery Cleaning (includes carpet, upholstery, tile & grout cleaning and emergency water removal);
Air Duct Cleaning (includes air duct cleaning, clothes dryer vent cleaning & indoor air quality products such as furnace filters and air purifiers);
Garage Solutions (includes garage door sales & repairs, openers, flooring and organization/storage products).
Sears Maid Service is our newest franchise cleaning service. (residential & commercial)
Why Choose Sears
The Sears Brand Advantage
The Sears brand has come to represent quality, integrity, convenience and - most importantly - consumer confidence. As one of the most recognized brands in the world, Sears has proven to be a strong and stable organization in support of our franchise network.
Going to market under the Sears banner means enjoying consumer awareness and confidence from the very start.
Sears will finance 80% of the franchise territory for qualified applicants over a 10 year period. In addition, Sears will discount the territory fee for Armed Forces Veterans by 10%.
Marketing and Advertising Benefits
Our franchisees also enjoy the benefits of:
Internet website to inform consumers and drive leads
Furnished advertising creative (this may include TV & radio commercials, print ads, brochures, direct mail, etc.)
Internet Yellow Pages listing
Internet SEO
National group rates for various direct-to-consumer advertising vehicles such as direct mail and Yellow Pages directories
Access to Sears database for your market
Use of the Sears credit card system & special financing offers
Training and Support
Our franchisees are provided with:
New Franchise Owners School
Customer Service Representative Training
Cleaning/Garage Technician Training
Comprehensive Operations Manual
In-Field Franchise Owner Support
Marketing Assistance
National Convention
Network of Franchisees to Share "Best Practices"
Information Technology Support
This web page does not constitute a franchise offering or an offer to sell a franchise. A franchise offering can be made by us only in a state if we are first registered, excluded, exempted or otherwise qualified to offer franchises in that state, and only if we provide you with an appropriate franchise disclosure document.