The Opportunity
With over 90 Total Nutrition Superstores nationwide, our franchise opportunity is a fully market-tested business model. From research and development into new products to our own proprietary lines of exclusive products, our franchisees gain access to a host of competitive market place advantages . . .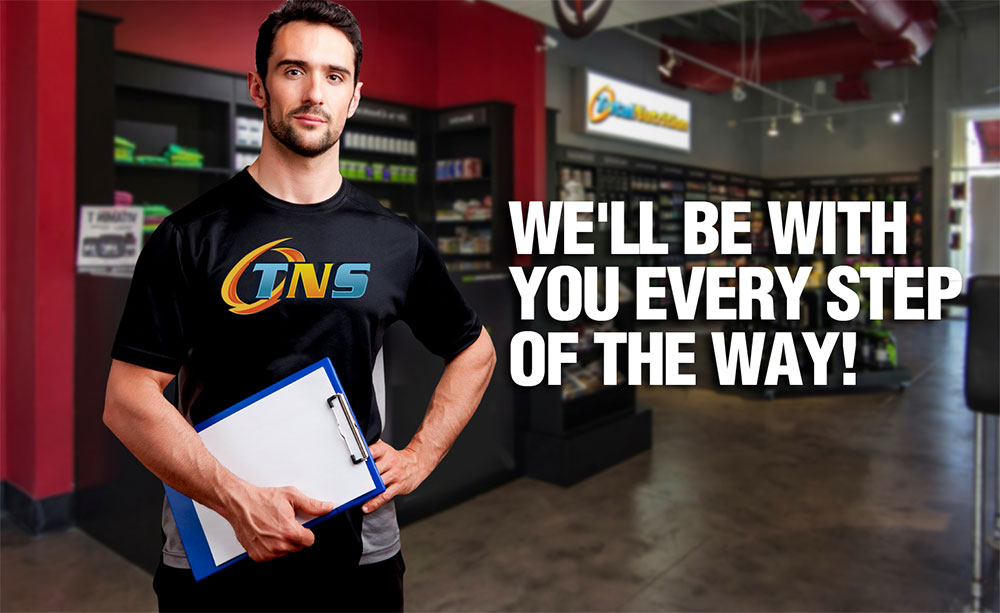 Extensive training
Store layout and set-up guidance
Tried and tested dynamic marketing initiatives
Experienced and highly qualified ongoing operational support
The Total Nutrition Difference
While the bulk of your supplement store's merchandise will be proprietary TNS? products, you'll have the flexibility to customize your in-store inventory to cater to your specific, local clientele by offering complementary vitamins and supplements to the Total Nutrition Superstores exclusive brands.
In other words, you'll have flexibility to add other brand names to your inventory mix if you feel certain products will sell well and ultimately serve your clientele.
And the flexibility doesn't just end with product choices. You'll also have the flexibility to choose your stores location. A Total Nutrition Superstores franchise can be situated in a variety of urban or suburban sites, whether a free-standing location or in a mall, strip shopping center, airport, gym or health club. Our supplement store franchises generally range from 1,000 to 1,600 square feet.
Assistance and Guidance
Of course, while we do flexibility that is rare in franchising, we'll be there to guide you every step of the way--helping you with site selection and lease negotiations. Once your location has been selected, we'll then provide you with detailed plans for build-out with mandatory and suggested specifications for design motif, interior layout, décor, color scheme and more.
What We're Looking For
We're seeking a select group of honest, energetic individuals with the enthusiasm and the drive to own a their supplement store and build their own business. To qualify, you must have good managerial, sales, customer service and supervisory skills and, of course, the necessary financial requirements. A passion for health and fitness will be considered a plus but is not a requirement. If you have ever dreamed of owning your own business, don't let this supplement store franchise opportunity pass you by.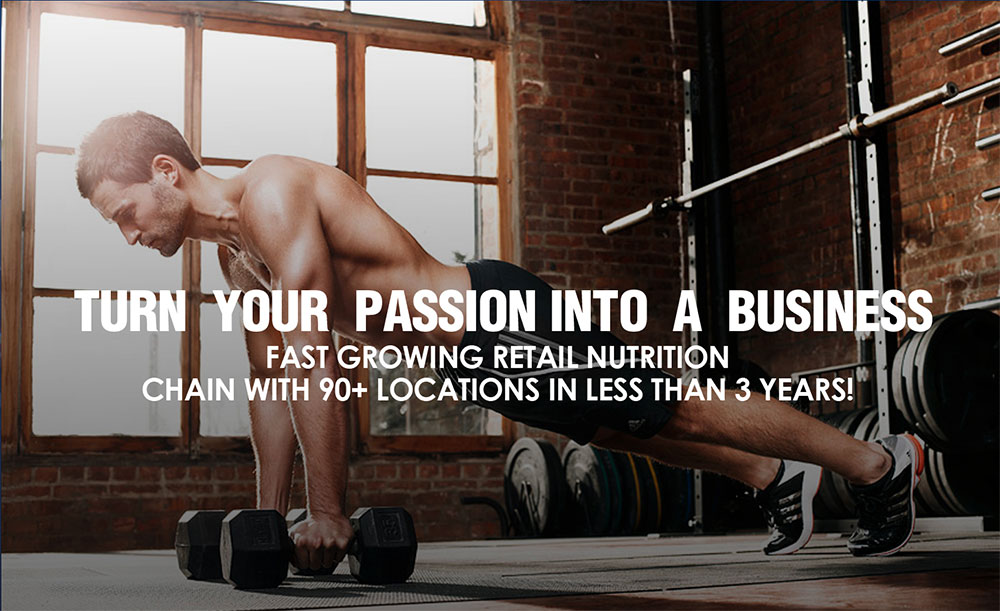 Convert Your Store
Does your store need a competitive advantage? Turn your store into Sports Nutrition Franchise with Total Nutrition Superstores!
Unlike most sports nutrition franchises, Total Nutrition Superstores organization encompasses both retail operations and manufacturing. What does that mean for franchise owners? Lots of great benefits:
Direct, efficient access to exclusive product lines and streamlined product ordering.
Competitive, factory-direct prices.
Ongoing product research and development, with a product team that is quick to respond to the marketplace.
Total Nutrition Superstores offers consumers a wide range of nutritional supplements, vitamins and health and fitness products. Our exclusive lines of more than 125 high-quality products are developed by industry professionals. These product lines include NUTRACORE®, PHARMA FUEL™ and SKINNY WAY™ as well as other weight loss, sports nutrition, vitamins and healthy-aging products.
We are known for our superior, knowledgeable customer service to help customers choose the right products for their specific needs. In fact, we even provide customers with a complimentary consultation with a certified sports nutrition specialist. We can train you and your staff on how you can provide this same level of service in your operations. If you are looking to convert your store, look no further than Total Nutrition Superstores.

The Industry
The supplement and nutrition industry continues to demonstrate strong growth, even in otherwise turbulent times. Globally, the market is approaching $170 Billion as it continues, unabated, on its dynamic trajectory. With our culture's ever-increasing emphasis on personal wellness, the burgeoning trend of proactively managing one's own health, and the explosion in the aging baby boomer population, the nutrition and supplement industry shows no sign of slowing down.
Looking deeper, the health store and weight loss service industries have grown each of the past five years, despite the struggling US economy. With obesity skyrocketing and obesity-related diseases becoming more and more prevalent, America is slowly but surely changing its nutritional ways. According to a 2009 report by the CDC, 2/3 of states had a prevalence of obesity equal to or greater than 25%. Ten years prior, no state reported an obesity rate that high. Also of note, recent projections forecast the population of Americans 65 years of age or older to almost double in size from 2010 to 2030, increasing from 30 million to 70 million.
Give Them What They Want - And Keep Them Coming Back For More!
At Total Nutrition, we do carry the top national brands in the industry. But what really sets us apart is our own proprietary lines of quality products. These lines include NUTRACORE, PHARMA FUEL and SKINNY WAY.
We realize the importance of quality exclusive products. One of the best ways to obtain and maintain a loyal consumer base is to provide exclusive products that customers can only get from you. With that in mind, our proprietary lines are never sold through other independent retailers or mass-market outlets. Our unique portfolio of exclusive weight loss, sports nutrition and healthy aging products surpasses our competitors in quality, innovation and value.

Marketing
While a great store location goes a long way, precise and consistent marketing is the best way to generate awareness and get people through your doors. Total Nutrition will guide you through the entire process of setting up a strategic marketing campaign and support you with new options as your store(s) grows.
Each franchisee's territory will be evaluated based on population, income and surrounding retail anchors and attractions. After extensive market research and analysis we'll then look at what we believe are the most effective venues to market to your population. We'll employ this strategy in conjunction with your budget to form an aggressive, yet affordable marketing strategy. Additionally, all franchisees have access to our password protected marketing portal, a marketing resource that every store owner will have access to. This site will include banners, flyers, radio ads and TV commercials that can easily be localized for your location(s).