The global nutrition industry continues to demonstrate strong fundamentals that make it both exciting and dynamic. On a global basis, the market is approaching $170 Billion and it continues to exhibit superior growth in the mainstream food and beverage markets, as well as other select consumer health products. This growth, coupled with a renewed emphasis on personal wellness and a trend of proactively managing one's own health, continue to fuel consumer demand. Most U.S. consumers, especially aging baby boomers, recognize that healthy foods and dietary supplements are part of a preventative health care package. This demographic of health-seekers is also pushing the natural and organics industry to 10 percent growth annually.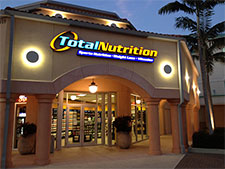 Looking deeper, the health store and weight loss service industries have grown each of the past five years, despite the struggling US economy. This growth can be attributed to the nation's drastically increasing obesity rates as well as the rising costs of healthcare. According to a 2009 report by the CDC, 2/3 of states had a prevalence of obesity equal to or greater than 25%. Ten years prior, no state reported an obesity rate that high. Also of note, recent projections forecast the population of Americans 65 years of age or older to almost double in size from 2010 to 2030, increasing from 30 million to 70 million. Obviously, these are attractive figures for licensees, as Sports Nutrition and Weight Loss categories make up 85% of Total Nutrition's sales.
Although we carry the top national brands in the industry, what sets us apart is our exclusive line of quality NUTRACORE products. We realize the importance of quality exclusive products. In order to attain a loyal consumer base, you need exclusive products that customers can only attain from one source-you. Our products are never sold through other independent retailers or mass-market outlets. Our unique portfolio of exclusive weight loss, sports nutrition and healthy aging products surpasses our competitors in quality, innovation and value.
We work with leading dieticians and health professionals to develop our premium grade product lines. In fact, each NUTRACORE formula is produced by a GMP-Certified manufacturer, a title granted only to manufacturers that have undergone intense FDA scrutiny ("A" rated by the Natural Products Association). NUTRACORE products work well separately or in combination, providing numerous opportunities for the "stacking" of multiple products-a benefit for both the consumer and your profit margin. Adding to high profit margins is the fact that many of our weight-loss and body transformation products follow cycles (14-, 30-, 60-day, etc.), which significantly increases the likelihood of repeat purchases.

We never rest. The Research & Development team at Total Nutrition is constantly working to create new products and improve upon our existing formulas to stay at the forefront of this evolving industry. We invest heavily in ensuring our proprietary offerings are the best on the market. Our leaders are experts in the field, quick to recognize our manufacturers' strengths. This passion and keen understanding of the supplement industry ensures that Total Nutrition only works with the absolute best.
It's evident over the last few years that both the online and retail landscape is changing. With the constant influx of online "wholesale" retailers, it's becoming increasingly difficult to compete on price alone. In order to be successful we found a niche and are exploiting our competitive advantages such as:
High-quality exclusive products
Total Nutrition offers NutraCore Nutrition - a fully exclusive line of more than 29 sports nutrition, weight loss and vitamin supplements developed by industry professionals WITHOUT cost in mind
Vertical Integration - Manufacturer and Retailer
This is where Total Nutrition completely stands out from the competition
As both a manufacturer and retailer, we are able to deliver products to store owners at 25-30% less than competitors in the industry, yielding 15-20% higher profit margins.
This also allows the ability to respond to changes in the marketplace rapidly i.e
Product development
Change in Demand
Paradigm shifts in marketplace
Along with a great store location, marketing is the best way to generate awareness and get people through your doors. Total Nutrition will guide you through the entire process of setting up a strategic marketing campaign and support you with new options as your store(s) grows. Every geographic area offers different options for marketing programs that will determine how you drive customers into your store. We don't believe that one size fits all in marketing.
With over 15 years of experience in the sports nutrition market, we'll be with you every step of the way!
Beginning with a corporate meet and greet at our headquarters in NY, you'll have the opportunity to meet face to face with your future partners and tour our expansive manufacturing facility. From that point forward we will provide corporate assistance before, during and after you open for business!
Before you open:
Selecting your future location, lease negotiations and detailed build-out and store set-up
Extensive sales and product training at our corporate headquarters as well as hands-on, in-store training with a fellow operator.
Corporate marketing training and assistance
When you open:
One of our Corporate Trainers/ Operators will spend 1-2 weeks at the store with you after opening, providing continued training and assistance until YOU feel comfortable
After you open:
We will be with you every step of the way providing on-going sales and product training, national and local marketing campaigns, and on-going product development