Challenge the Pros:The Role of Your Brand Culture in Recruitment And Development
What role does your brand's culture play in your recruitment and development process?
Gary Matusiak
VP of Franchise Development
Pancheros Mexican Grill
At Pancheros, interviewing prospective franchisees who fit within our brand's culture is a lot like dating. During the process, we conduct multiple calls with a potential franchisee to ask questions, gauge whether they would be a fit for our brand, answer any questions they have, and build a rapport with them. We listen for the prospective franchisee's key priorities and principles, which are indicative of whether they would be a good fit within our culture.
After we get to know the prospective operator, we invite them to attend a discovery day to meet our team and learn more about the Pancheros brand and culture. This process is a bit more of an extensive interview with office staff and our executive team. This is a chance for us to really affirm whether or not we feel these franchisees would be a good fit for Pancheros. After discovery day, if we are still interested in pursuing these franchisees, the next steps would be to gather necessary information and execute a development agreement. However, as with any other business, there are times when this is not true, and we have had to decline franchising with certain prospects, but that is what keeps our culture unified and consistent. Our main goal is to find partners who fit our system and can grow with us. We don't want to just quickly sell franchises to collect franchise fees because that ultimately leads to operators who are not a good fit with our brand or culture. This multi-step interview process ensures that we are doing a proper job selecting franchisees who are a good fit for Pancheros.
Teddy Lester
VP of Brand Development
Woodhouse Day Spa
Every organization has a culture. Often in business, that culture is developed as team members watch the actions of their leaders and see which behaviors are rewarded and which are not. At the Woodhouse Day Spa, we believe the best cultures are intentionally built, and it is something that we strive for on a daily basis. Building an intentional culture takes a lot of hard work, and the leaders must be focused on sharing the vision of where the organization is going and how the team plays a role in the journey.
The Woodhouse culture is a fun, family-oriented, hospitable, and welcoming culture built on trust, results, action, and a genuine passion for making a difference in the lives of our corporate team members, franchise partners, guests, and spa team members.
Culture is the very first thing we look at in both the development process of signing new franchise agreements and the recruitment process in our corporate office and within individual spa locations. This is determined by asking an assortment of questions, for example:
Does this person want to transform lives?
Is this person here for more than business and money?
Does this person have a positive attitude, passion, and a willingness to learn?
The last question is the most important, as Woodhouse hires by character and trains the necessary skill set. We offer extensive training programs with streamlined processes and tools to train new employees and franchise partners, but the person must have the willingness and want to learn in the first place.
At Woodhouse, culture is everything. It is both the foundation for the way we run our business and a large reason for the brand's success. We genuinely believe that for a company to succeed, its leaders must put culture above all.
Published: September 30th, 2015
Share this Feature
Recommended Reading:
Comments:
comments powered by

Disqus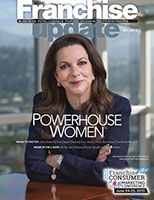 Franchise Update Magazine: Issue 1, 2015
Sociallybuzz, founded in 2009, is the #1 Social Media Marketing Agency to help franchisors and franchisees increase their revenues, drive sales, and...
Our accounts payable automation platform combines technology with simplicity & affordability. Save time and money, and automate your ap workflows...