Predictions, the American Way: Give me a Forecast, or Give Me Death
There's a year-end ritual I've always hated. No, it's not those standard resolutions to eat better, exercise more, and clean the piles off my desk. Worse. It's being asked to forecast where "X" will be in a year, "X" being the level of the Dow, the price of gold, the yield on short-term Treasuries, etc.

I've never understood the fascination with trying to predict exactly where something was going to be at "3:01 p.m. CST 365 days hence." Nor have I seen the relevance. Markets aren't predictable. Never have been and never will be.

As we've seen, particularly in recent years, a lot can happen in 12 months. If you had suggested in January 2009 that none of the major investment banks would survive independently, that the Dow would fall 23 percent in a single week, or that oil prices would go to $150 and then plunge more than 50 percent, you might have been escorted to a restrained ward far away from the public eye. Similarly, at the start of 2009, predictions that the world was going to end before the second quarter were much more in vogue than wagers that the market could rally by 35 to 50 percent. Trust me. I did make such a "rally" prognostication privately to some friends. It was met with much derision for the first nine months of the year!

Predictions seem to be the American way. We want things in precise little boxes to help alleviate the stress of operating in an environment that contains many unknowns. We ramp up computing power and model various outcomes. We somehow believe that accuracy in predicting eventualities is directly correlated to the decimal-point precision these models provide. We peer at market charts or indicators to find patterns in the present that can be matched up against the past.

Daily, neuroscientists are learning more about how intensely discomfited we are by randomness--and how this causes us to seek to stuff our experiences into neat boxes that we can understand. Unfortunately, the process of trying to project things we have no control over can easily distract us from focusing on things we can influence. Neuroscientists now know that our attempts to forecast the future are colored by recent events, further compounding this distraction. So, while we are trying to guess where the S&P will finish in 2010, we forget to think about things we can control--such as setting up an automatic monthly transfer from checking to savings to fund a trip to Mexico, analyzing our credit card fees or insurance coverage, or considering if we have become over or underweight in a particular asset class and then determining how best to rebalance.

So if we're not going to try to predict exactly where the Dow will finish in 2010, how do we develop a framework for thinking about our affairs? Let's start with a few broad considerations.

How this economy evolves over the next few years is arguably more dependent on one city--Washington, D.C.--than at any point in recent memory. Groundbreaking reforms and regulation in major industries such as health care, energy, autos, and financial services will irrevocably shift how industries evolve. Much of the legislation and regulation hasn't even been written yet. The net result for investors isn't to avoid investments in these industries entirely, but to stay both watchful and nimble.

To pay for these sweeping reforms, do you suspect tax rates will stay at current lows? Even if Congress doesn't touch tax rates in 2010, marginal income tax, capital gains, and estate tax rates will revert to higher levels in 2011. Are there things you can or should do within your own portfolio or business situation to lock in long-term gains and avoid higher future taxes?

If the economy continues to show signs of firming, will interest rates begin to rise? Maybe but not right away, given the slack in the system. However, rates have dropped from more than 20 percent in the early 1980s to near zero today. Odds are they can't go much below zero for any length of time. Even if rates return to long-term norms (around 4 percent for mid-term Treasuries), this would come as a rude shock relative to recent history. Do you have bonds or bond funds in your portfolio that would be affected? If you think interest rates will rise, even a little, does it make sense for you to lock in all the long-term debt you could reasonably carry at current rates?

You get the idea. We could go on and on thinking through different scenarios. My point is that this is the type of ongoing strategic thinking that can help you understand the strengths and vulnerabilities in your own situation much more thoroughly than guessing a random terminal number. Happy New Year and Happy Strategizing!

Carol M. Clark, CFA, is a partner and investment principal of Lowry Hill, a private asset management firm that provides proprietary investment management and financial services to families, individuals, and foundations with wealth greater than $10 million. The firm manages approximately $6 billion in assets for nearly 300 families and more than 60 foundations from offices in Chicago, Minneapolis, Naples, and Scottsdale. She welcomes questions and comments at cclark@lowryhill.com.
Published: January 11th, 2010
Share this Feature
Recommended Reading:
Comments:
comments powered by

Disqus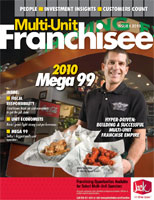 Multi-Unit Franchisee Magazine: Issue 1, 2010
Daddy's Chicken Shack believes in simple, high-quality ingredients with a lot of love.
Blend opportunity with success and join the nation's #1 health and fitness smoothie brand today!
Cash Required:
$100,000