Freezing Moo Franchise Opportunity
Financial Information:
| | |
| --- | --- |
| Franchise Fee: | $30,000 |
| Total Investment: | $250,000 - $350,000 |
| Royalty Fee: | 5% of sales per month |
| Advertising Fee: | $650 per month |
Available Markets:

United States: AL, AK, AZ, AR, CA, CO, CT, DE, DC, FL, GA, HI, ID, IL, IN, IA, KS, KY, LA, ME, MD, MA, MI, MN, MS, MO, MT, NE, NV, NH, NJ, NM, NY, NC, ND, OH, OK, OR, PA, RI, SC, SD, TN, TX, UT, VT, VA, WA, WV, WI, WY
Freezing Moo presents a new trend in the frozen dairy industry. Referred to as "hibachi for ice cream," Freezing Moo is an experience for the senses, with its delicious flavors and aesthetic appeal.
This ice cream is a step above the rest as only the freshest, most wholesome ingredients are allowed: milk, cream, cane sugar, and fruit. There are no chemicals or preservatives.
Why Franchise with the Freezing Moo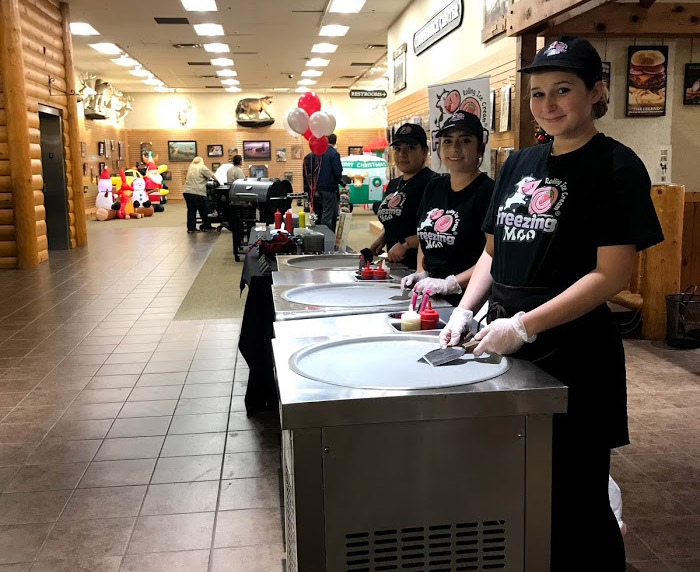 Franchising with Freezing Moo is easy, straightforward and profitable due to the renown, marketing, and brand that comes with Freezing Moo.
Renown
Freezing Moo's Thai style of frozen ice cream has received praise and recognition in both traditional and online news forums.
"Freezing Moo is Edible Performance Art" - FlatLand KC, online news source.
"Freezing Moo is the Coolest New Ice Cream Parlor in KC" -JournoSpeak, online blog.
"Overland Park's new 'Hibachi for ice cream'" - Kansas City Star, both online and in print news source.
Countless videos, Facebook posts, Instagram posts, tweets and other, popular sources of media discuss and praise the Freezing Moo ice cream style as well as the Freezing Moo brand. Viral videos have documented this style of ice cream as the newest, and greatest frozen treat experience. Freezing Moo provides both a novelty experience as well as fresh, wholesome treats everyone can enjoy.
Marketing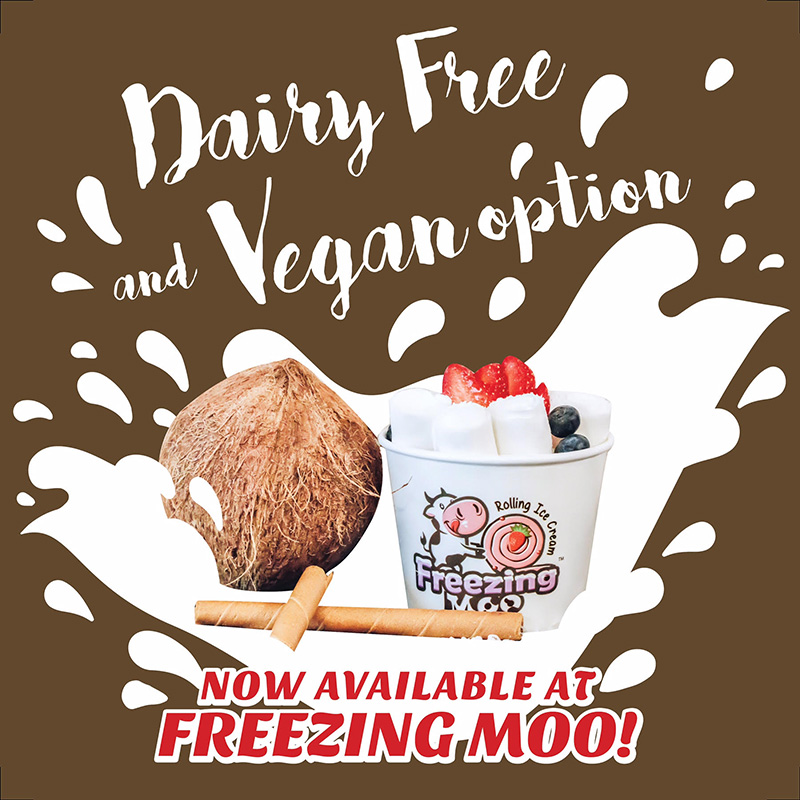 The Freezing Moo is well established on all popular social media platforms. It has a strong presence on these platforms and continuously engages the community through regular, highly successful campaigns. These campaigns are led and devised by the Freezing Moo Marking and Public Relations Team.
In addition to these efforts, the Freezing Moo has recently started a line of merchandise, which has found great success. Selling gift cards and basic clothing items with the Freezing Moo logo has proven exceeding successful.
Through the successful marketing campaigns, Freezing Moo has expanded in prominence. Freezing Moo owns its domain name and logo, meaning it is always the top search result using a search engine. The favorable media attention received also highlights the success of Freezing Moo and promises when franchising with Freezing Moo, success and profit is easily gained due to its successful promotions and strong online presence.
Brand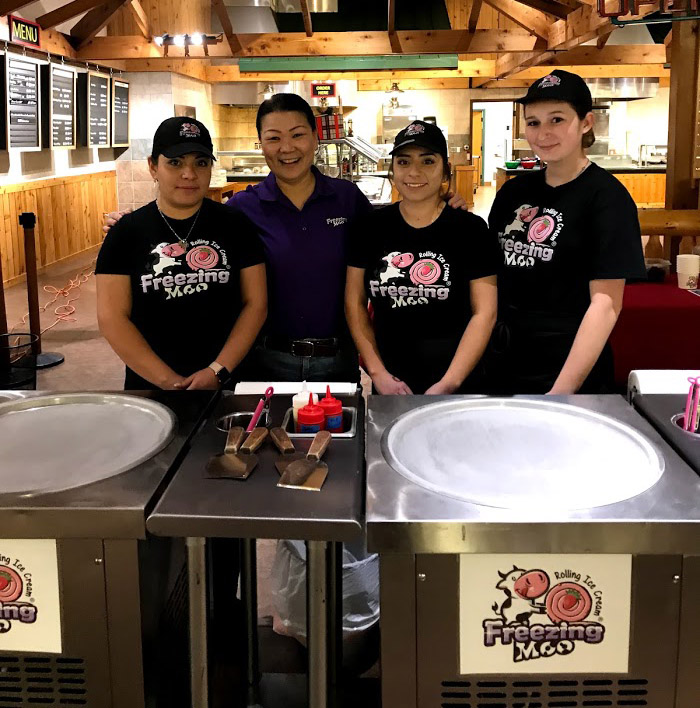 Freezing Moo has successfully established itself in the Kansas City area. Well-known and synonymous with superior and engaging service, delicious ice cream and a family-friendly atmosphere, The Freezing Moo brand carries with it the esteem and promise of a high quality product.
Getting Started
Investment Expenses
The initial investment expenses are estimated at $250,000 to $350,000, including the initial fee of $30,000. Other fees include 5% of sales per month and $650 per month as a marketing fee, which includes the right to use the national website, a store website, social media support, menu design and coupons.
Location Selection
Freezing Moo will assist with location selection to help determine the best location with the highest grossing potential.
Training And Support
Each Franchise location comes with adequate training and support for a successful entity. A two-week long training session at the Freezing Moo training location is provided for two managers or franchisees.
A supporting manager is available for four weeks at the Franchise location. One week is spent prior to opening preparing. The manager will stay onsite for an additional three weeks to help ensure the local store operation is working efficiently and effectively.
Quarterly visits and performance evaluation checklists are available to maintain the Freezing Moo standard.
Freezing Moo will help with leasing, site selection, trade area study, preliminary drawing, floor plan layout, store design, building materials, final drawings, permits, electrical and plumbing, signage design, banner design, pre-opening marketing materials, opening marketing materials, the computer system, POS system, equipment, occupancy permit and assistance for additional required licensing and permits.
Request Information
Looking for more information about Freezing Moo? Take a moment to fill out our quick information request form.