Accelerated Brand Strategies
Strengthen Your Brand Engage New Customers
Grow your revenue Pay on Performance...Not Promises!
Accelerated Brand provides your brand access to the nation's largest platform to bring paying customers right to your door! We advertise your offer on hundreds of leading websites and apps, representing over 250 million potential customers.
Nothing to Install. No Staff Training Required.
Customers see your offer online and buy in-store using their debit & credit cards.
No changes needed, just additional revenue for you.
How It Works
Step 1 - Your ad is showcased for free on 100s of sites & apps: search engines, airlines, banks, etc.
Step 2 - Customers are geo-targeted and visit your location. Customers pay full price for their purchase.
Step 3 - You only pay a fee for in-store sales that we generate
Transparent Reporting 24/7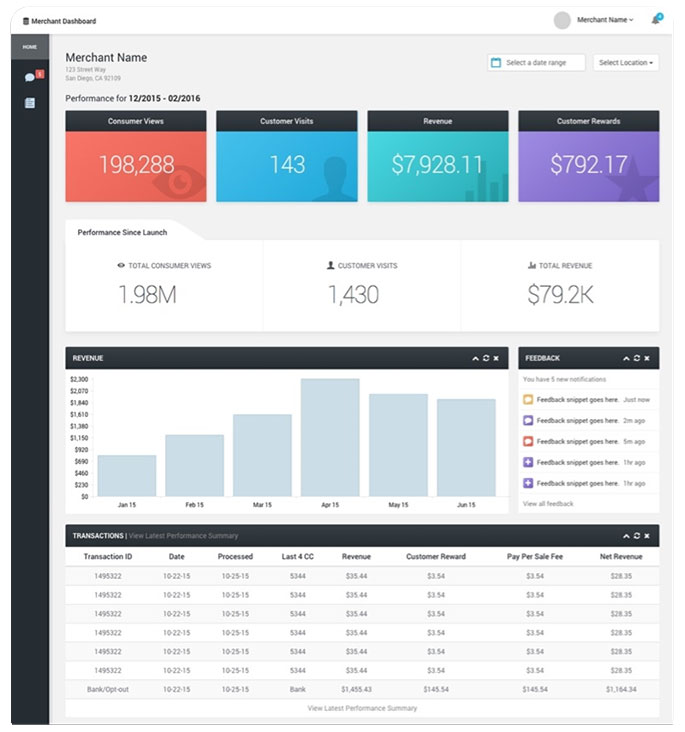 Your dashboard shows your marketing performance in a clear and easy way. You always have full access.
Customer views show how many people saw your business online.
Customer visits shows how many actual guests spent money at your restaurant.
Revenue shows you how much money you made.
Transaction History will match up with your Merchant Service Provider statement.
Why Us
Easy Sign-Up and Implementation
No POS integration.
No Software to Install. Bulk Upload of Locations.
Less than 30 minutes required from your team to fully implement across all locations
Complete Control
YOU decide on how much Cash back to offer the consumer - this can also change month to month
YOUR business gets paid in full at time of purchase
Full reporting and analytics showing details of customer's purchase
Targeted
Your offer will be geo-targeted on over 100 apps and websites with a reach over 250 million potential customers
ONLY cardholders who have enrolled their cards to get these offers and earn cash back.
No Risk
No long term contract - quit anytime Accelerated Brand is paid solely on performance.
We only get paid after we have driven revenue to your locations