Introducing Atmosphere TV - the world's leading streaming TV service for businesses, offering original, audio-optional TV channels. And for Dominos owners everywhere, it provides the optimal opportunity to make your customers stay a little bit longer, and maybe order that extra order of garlic rolls and diet coke either via one of Atmosphere's 50+ family-friendly channels or the Dominos TV channel, available exclusively to Dominos franchisees.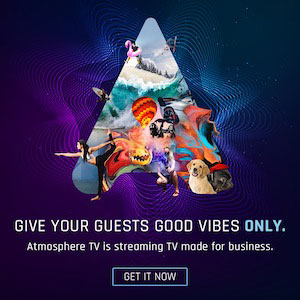 What we've developed is an entirely new class of TV programming that redefines the standard for out-of-home content and is intentionally designed to keep your customers lingering. Combined with custom promotions and special offers you can design to suit the needs of your customers, Atmosphere TV simply becomes another logical touchpoint for your customers to engage with your brand and stay connected.
Atmosphere adds a little levity, by entertaining, delighting and engaging. It's completely free at its lowest entry point, and businesses can also run their own marketing promotions and house ads within by utilizing a Digital Signage feature -- not something that can be executed with traditional cable.
Consider these growth data points that occur across Atmosphere's thousands of restaurants and venues:
That's the difference. And it's free.
Most venues think they have no choice but to show cable stations with subtitles featuring talking heads or news, but Atmosphere delivers flexibility and personalization that adds significant value without any cost.
As so many businesses are in the midst of re-evaluating how they deliver a memorable experience to their customers on a daily basis, it's critical that content be a part of that discussion -- and the role it will play to support, not to detract.
Want to learn more? We'd love to chat with you: come visit www.Atmosphere.TV.