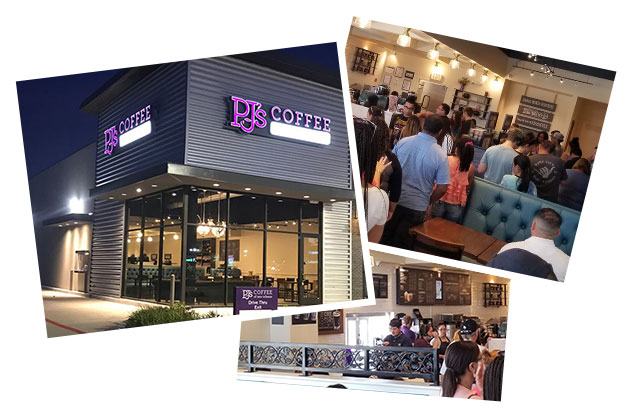 Sociallybuzz, founded in 2009, is an award-winning social media reputation, management, and advertising agency. We provide managed services and technology automation to help franchisors and franchisees grow using social media, data, and advertising. Sociallybuzz was named one of the top social media agencies for the franchises industry by Entrepreneur Magazine.
Sociallybuzz is a marketing partner franchises can count on to help them achieve the highest returns on their investment. Many franchises are already using Sociallybuzz--to help grow their revenues, drive sales, and build awareness.
We provide a wide range of marketing services such as Social Media Management, Advertising, Lead Generation, Grand Opening Campaigns, Sales Funnel, Reputation Management & other effective marketing strategies to grow your franchise business.
We work with brands such as Domino's, Jamba Juice, TGI Fridays, Papa John's, Golden Krust, PJ's Coffee, and more, leading campaigns that generated millions of dollars in sales.
Our Philosophy
Our philosophy is simple. It's not about how many fans, followers, or friends our clients have on their social networks. It's about turning those people into customers, seat fillers, and brand lovers. It's not about the tools, the CRM, SRM, social mark up language, or whatever fancy name they have for it. It's about effectively utilizing the right social networks, geo location applications and/or consumer-to-business communication mediums to meaningfully connect customers to brands that they can feel great about
.
Businesses or brands must reach their consumers at a level that connects them to something they value and we at Sociallybuzz get it! We don't deliver one-time quick marketing fixes. We will consistently and effectively Build, Engage and Grow your business and brand.
The Sociallybuzz team immensely helped me develop and execute the social media strategies for our 2014 International Franchise Expo. We successfully increased attendee registrations by 30% from the previous year, significantly grew our Facebook fan base by 50% and expanded our brand awareness to the target markets. Andre is a pleasure to work with, he is very professional and responsive to all my project?s needs. Sociallybuzz is truly a great asset to the MFV Expositions brand. I recommend Sociallybuzz to anyone looking to enhance their social media efforts and brand engagement
We highly value the services provided by Sociallybuzz in the development of Golden Krust's social media footprint. They have been outstanding partners with us as we strategically pursue deeper engagement with all our valued customers who are active in the "social-stratosphere". Not only is the Sociallybuzz team a fun and innovative team to work with, but their response time is remarkable. I can always count on them to deliver on or ahead of deadline. In this dynamic marketplace, in which we operate, it is important to have a team that stays on top of and ahead of their game. Sociallybuzz is a marketing partner you can count on to help you achieve the highest returns on your investment.