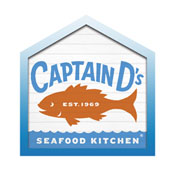 America's Seafood Favorite is
offering New Franchise Opportunities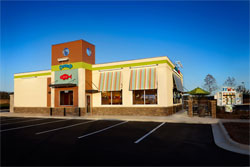 Captain D's Seafood Restaurant first opened its doors back on August 15, 1969. We've grown and innovated quite a bit since then, but we've been committed to serving freshly prepared seafood at a great value from the beginning. We've recently implemented some exciting changes, including a stylish redesign of our restaurants and an updated menu that includes a variety of popular fire-grilled items. As Captain D's has evolved, however, we've never wavered from our core values--great food, great prices, and even better service.
We're proud of our heritage and the hospitality we offer every guest at more than 520 restaurants. We've had over 40 years to perfect our recipe for success, and it's paid off. Today, we're America's favorite quick service destination for seafood, and our restaurants produce industry-leading AUV growth.
Why invest in Captain D's
Captain D's has a strong reputation for high quality seafood and warm hospitality at a great value. What you may not already know is how we've innovated our business to become the seafood category leader.
We've reinvigorated our brand with a new store design that brings the beach to our customers. We've also upgraded our menu with new fire-grilled items to complement our batter-dipped fish and seafood recipes, our classic side dishes, and our well-rounded full meals. More importantly we are America's favorite quick casual seafood destination:
#1 seafood chain in the QSR 50 by average unit volume
12th largest AUV growth out of the nation's top 100 chains*
Record breaking same store sales growth
We've been busy growing our business, but you can rest assured that we'll also support you as you grow yours. We offer:
Industry-leading product innovation - We're dedicated to improving our guest experience and menu offerings so you can focus on running your business.
Global procurement & distribution - We travel the globe to find the best suppliers and have streamlined our distribution system for fast delivery to your restaurant.
Turnkey marketing & advertising campaigns - From TV to signage, we'll provide you with every tool you need to market your business.
On-going training & support - You'll learn the ins and outs of Captain D's through a blend of computer-based and hands-on training.
Style that makes a splash
As part of our recent brand revitalization, we've rolled out a new restaurant design to enhance the Captain D's experience for our guests. Our new look focuses on creating a vibrant coastal experience and welcoming atmosphere that transports guests to their favorite beachside destination. We're also offering new seating options for groups of six or more--making your restaurant the ideal local destination for big family dinners, a relaxing gathering with friends, or team celebrations.
Opportunity awaits
When you build a business with Captain D's, you're making a smart decision. We're seeking business savvy, hard-working franchisees to expand Captain D's geographical footprint. Our ideal candidate is a driven, experienced franchise partner who knows what makes a restaurant successful. We're looking for professionals who believe in our system and who will uphold the high standards for service and quality that have made Captain D's a seafood favorite for over forty years.
Franchise candidates must have a collective net worth of at least $1 million, with liquid assets greater than $350,000.
Ready to join us?
This web page does not constitute a franchise offering or an offer to sell a franchise. A franchise offering can be made by us only in a state if we are first registered, excluded, exempted or otherwise qualified to offer franchises in that state, and only if we provide you with an appropriate franchise disclosure document.