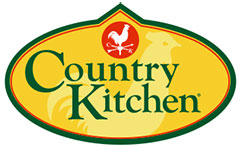 A Place Like Home

For 75 years, Country Kitchen has served
up Quality, Comfort, and Commitment.
No two Country Kitchen restaurants are exactly alike - and that's by design. We give franchise owners the freedom to operate in tune with their local customers. After all, no one knows your market like you do.
To help you succeed, we take pride in the personal relationships we form with our franchisees and the serious teamwork that results. In the Country Kitchen system, we are committed to good, old-fashioned work ethic and fields of opportunity.
There are abundant reasons why Country Kitchen is a great franchise for your future. Here are some of them:

Iconic Brand: Country Kitchen has been part of the American tradition for 75 years. It is known for premium ingredients that make up breakfast skillets, The Best Pancakes in Town™, sensational burgers and home-cooked dinner entrées. Country Kitchen is a brand people trust.
Flexibility: You will take an active role in selecting the site, the style of restaurant (in-line, end cap, conversion or free-standing), flexible décor (to reflect the local area and/or customer interests), the menu (to treat local tastes) and the pricing that will provide the greatest success for their market. This flexibility is designed to maximize your ability to meet your customers needs in your local market.
Personal Relationships: Franchisees have direct access to our executive management team and, together, they focus on your success. We know that solid relationships built through one-on-one mentoring and a team approach to problem-solving and progress, are just good business.
Great Meals, Great Market: Country Kitchen offers value-conscious meals across all of the day parts; breakfast, lunch, dinner and late night!
Purchasing Power: Thanks to our alliances with vendors, franchisees gain trusted sources for value while also enjoying significant cost savings.
Range of Development Opportunities: Moving beyond the traditional free-standing restaurant, we see significant growth potential in developments at travel plazas, hotels, colleges, airports, casinos, etc. In addition, independent restaurants are well-suited for conversion to Country Kitchen restaurants. Country Kitchen offers both single and multi-unit franchises to qualified franchisees. These options make it easy to explore your own business expansion.
Strong Corporate Support: Our dedicated proprietary support systems help you every step of the way, from opening your restaurant to growing your business. On a continuing basis, we provide in-house marketing support, operational enhancements and training and market research that will benefit your bottom line.
Poised for Growth: Our 75-year history yields a lot of wisdom. Over the decades, we've adapted to a changing world, going from hamburger stand and later drive-in to a breakfast and coffee shop and then a full-service diner. Today's "Country inspired" family-style restaurant exists in nearly 20 states and Canada. Though our traditional niche has been smaller Midwest markets, we have also operated in major markets and outside of the Midwest. What's more, we have the added knowledge and motivation for operating in non-traditional developments. This is our unique recipe for growth, and it will strengthen the entire Country Kitchen family.
Country Kitchen is an approved SBA franchise.


We're ready to get cookin'--are you?
Social Reach:
This web page does not constitute a franchise offering or an offer to sell a franchise. A franchise offering can be made by us only in a state if we are first registered, excluded, exempted or otherwise qualified to offer franchises in that state, and only if we provide you with an appropriate franchise disclosure document.
From delicious breakfast, lunch and dinner entrees to warm and inviting service, Country Kitchen is a leader among full-service, family-style restaurants.
Browse:
Request Information
Looking for more information about Country Kitchen? Take a moment to fill out our quick information request form.
"The most satisfying aspect to me is the purchasing assistance we receive. Not only does Country Kitchen International negotiate and monitor a strong purchasing program with a large national distributor, with negotiated markups, but they also secure favorable pricing from the manufacturers so the distributor marks up a smaller base price. It sure beats paying street prices, even the "50 case per year" price you get as an independent."
Andrew Sloan
Country Kitchen franchisee, Benton Harbor, Michigan
"Every single member of Country Kitchen's corporate team is invested in franchisee success, listening to ideas and concerns. When I first purchased an existing restaurant, I didn't think I'd be renewing in the future. However, within the first year I realized that the relationship was well worth it. They provide cost savings, training, research, menu development, marketing materials and general expertise. I've since opened a second location and expect to do more. Overall, I am continually impressed with the quality, knowledge and energy of the corporate team and the personalized attention and coaching my staff has received."
Keny J. Adams
Country Kitchen franchisee, Hibbing and Virginia, Minnesota