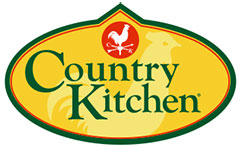 A Place Like Home
From delicious breakfast, lunch and dinner entrees to warm and inviting service, Country Kitchen is a leader among full-service, family-dining restaurants.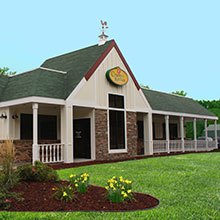 Since our beginnings in 1939 as a modest hamburger stand, we have existed as a drive-in, a coffee and breakfast shop, a full-service diner, and now a "Country" inspired family-dining restaurant. We have seen and done it all, and wholeheartedly treat our guests like we're welcoming them into our homes.
We've also revamped Country Kitchen with a new image. We are proudly revitalizing what it means to be "Country" through interior and exterior reimaging. These changes reinforce our brand image while moving us forward in the family-dining segment.

Food, Flexibility, Opportunity & Support
Food
Freshly prepared menu items! That's the kind of food our guests can expect: good homestyle comfort food, with modern twists to appeal to all demographic groups. Our menu ranges from light and fluffy pancakes to hearty skillets and omelet's, thick and juicy burgers to savory sandwiches, succulent baked turkey to tender steak dinners and more. Whether its morning, noon or night, guests are sure to satisfy their appetites.
Flexibility
Country Kitchen recognizes the value of a strong brand, but perhaps more than any other family-dining restaurant franchise, encourages flexibility. No two Country Kitchen Restaurants are exactly alike. After all, you know your town and your tastes. This is your home.
While we have a core menu with staple Country Kitchen items, we want you to be able to serve local specialties. Have a recipe or type of food that you know is a big hit in your town? Include it on a custom menu insert!
Every town is different from the one right next door. That's why we want you to price everything on your menu according to your own market competition and costs. We'll be happy to guide you based on our experience and proprietary systems.
Finally, the building styles you could own are nearly limitless. Whether it's a brand new building or a conversion, Country Kitchens come in all shapes and sizes. We can attach a restaurant to a hotel, travel center, truck stop, convenience store, casino, strip mall, and much more as well! Based on your town and the size of the site available, we'll be happy to work on a custom plan with you.
Opportunity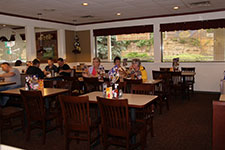 Country Kitchen is committed to franchisee growth and offers significant development opportunities, whether your interest is in developing a single unit or through multiple unit growth in exclusive markets. Our heritage Midwestern markets or new opportunity markets afford significant growth potential! The multiple types and flexibility of locations we have successfully operated in maximize the opportunity for growth in these markets!
From large metropolitan areas to mid size communities, Country Kitchen has significant experience developing and operating in these markets! Additionally, we have specific programs designed to facilitate the conversion of existing independent restaurants to the Country Kitchen program! We'd be pleased to provide additional information on our incentive program for conversion of independant resturants.
Support
Comprehensive programs designed to support our franchisees in the successful development and operation of their Country Kitchen restaurant! Whether site selection and development support, to complete training programs and opening support, to operational systems that have been time tested and operationally confirmed, to "in house" marketing support and an extensive vendor program designed to provide documented cost savings to our franchisees!
Fee Structure
Our initial franchise fee is $30,000. Multi unit fees are $30,000 plus 50% of any future units to be developed.
A 4% Royalty Fee and 1% Advertising Fee. These fees compare to fee structures ranging in the 6-8% range representing a significant savings to our franchisees.
Projected Investment
Estimated Opening Investment: $100,000 - 1,736,300 depending on situation
Converting a restaurant similar in nature to a Country Kitchen: $100,000 - $275,000
Ground up unit to be attached to another business (hotel, travel plaza, strip mall, convenience store etc): $450,000 - $600,000
Free standing ground up unit: $687,000 - $1,736,300
This range and average includes the initial franchise fee, construction, furniture, fixtures and equipment, décor, signage, pre-opening supplies and pre-opening training of your management team. They do not include the cost of buying or leasing land. It is very likely, though not guaranteed, that a conversion would cost significantly less than a ground up unit.
Financial and Operating Qualifications:
Franchisee candidates should have a collective net worth of $1m, with liquid assets of $350,000 and demonstrated operating capability. Multi unit franchisee candidates require a collective net worth of $2m, with liquid assets of $700k and demonstrated multi unit operating and development capability.
Country Kitchen is an approved SBA franchise.