Doc Popcorn Franchise Opportunity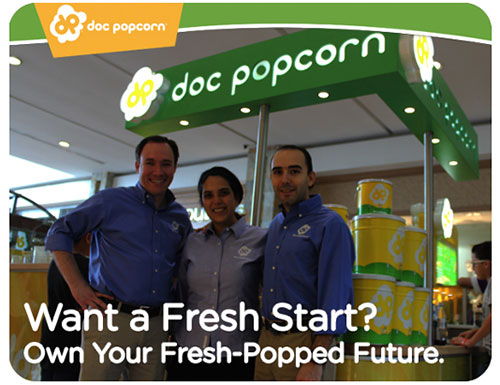 Making You Smile Is What Makes Us POP!
Doc Popcorn is a simple and fun business that is popping up everywhere. Inspired by "mom and pop" kettle corn makers, our founders Rob & Renee Israel spent the better part of a decade creating a mouthwatering flavored popcorn offering and a variety of flexible business models to pop fresh at high-traffic venues. We have since grown into a family of nearly 100 POPrietors who are having a blast spreading smiles worldwide with our great tasting, freshly popped snack.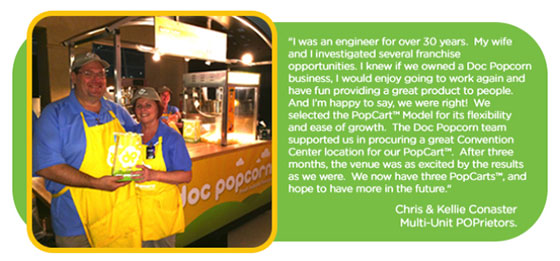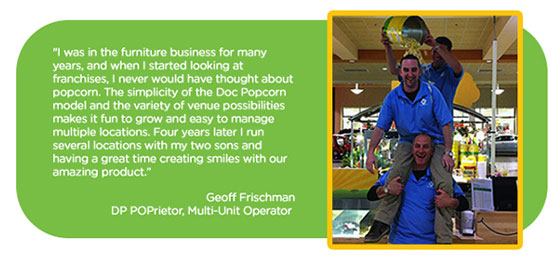 Your Fresh Popped Future
We provide you with a flexible platform from which to build your Doc Popcorn business in high-traffic venues. Own a Mobile PopCart™ and pop into weekend festivals, events at sports stadiums, convention centers or other entertainment venues. Open a PopKiosk™ or PopShop™ in a shopping mall or transportation hub. Or, develop your business using a combination of all three models. The choice is yours.

Are you Ready to Get Popping?
We award franchises to candidates who meet our financial criteria and seek a simple, fun and flexible business opportunity. Many of our POPrietors are couples and families operating their Doc Popcorn business together. They also own or plan to operate multiple locations. If this makes you smile, then fill out the form and one of our POPrietor Finders will call you to talk more about the Doc POPportunity!

Social Reach:
This web page does not constitute a franchise offering or an offer to sell a franchise. A franchise offering can be made by us only in a state if we are first registered, excluded, exempted or otherwise qualified to offer franchises in that state, and only if we provide you with an appropriate franchise disclosure document.
Doc Popcorn is revolutionizing the way people snack in high-traffic venues, and is one of the fastest growing and best positioned snack franchises...
Browse:
Request Information
Looking for more information about Doc Popcorn? Take a moment to fill out our quick information request form.
"After a 25-year career in the auto industry, I wanted a change. I made a life decision to own my own business. I tried Doc Popcorn and fell in love with it, I never looked back."
Bill Bentz
POPrietor, Mall of America, MN
"After years of working in the corporate world, I wanted to take control of my life. I looked to Doc Popcorn and now I am realizing the American dream. The possibilities with Doc Popcorn are truly endless."
Nate Godo
POPrietor, Knoxville, TN