How do your sales measure up in today's economy?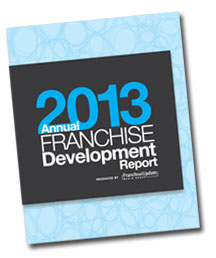 Look Inside
Franchise Update's 2013 Annual Franchise Development Report is packed with timely information and benchmarking data that can help your franchise system grow faster and close more deals.
This in-depth report features results from more than 110 organizations actively expanding their franchise systems. The thoroughly researched report spotlights the latest trends and reveals franchise success drivers that are sure to boost the octane rating in your sales department.
Smart franchise organizations are watching lead-generation and sales trends, making adjustments, and selling more deals. And you can stay ahead of the curve with this report.
Own the most comprehensive sales and lead generation data available in franchising!
Target top sales producing sources
Save thousands in development costs
Report organized by industry categories and investment levels
Ideal benchmarking for building budgets and media plans
Insiders complete survey to sales and marketing trends, costs, and budgets
Report represents companies totaling over 50,000 franchise units and 42 industry categories
This report is a must buy premier selling tool for franchisors, development consultants, and advertising & marketing suppliers.
Reports will be digitally delivered in PDF format. Please allow 5 business days for delivery.
Order Online
Order the 2013 Report
Report Cost: $399 $299
Report Type: Acrobat PDF
Order By Mail or Fax
For Assistance Please Contact:
Sharon Wilkinson at 800-289-4232 ext. 202 or sales@franchiseupdatemedia.com