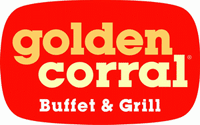 It's Not a Test Kitchen...
It's a 10,000 - square-Foot Cash Register.

What It Takes To Grow...

Franchisees are a vital part of our future growth and success. We believe that the person who is responsible for the business must be involved. But our franchisees are not alone. The Company and Regional Support Center Team is there for them. We are one team. One family.

Exterior of New Prototype of Golden Corral

Our franchise growth and success grew from the Partner/Manager concept originally implemented in our company-owned restaurants. This concept allowed us to build a solid foundation of people who believe in the Golden Corral Corporate Vision. To be the leader in the family restaurant segment by making pleasurable dining affordable for every guest, at every restaurant, every day.

Char-Grilled Steaks and Ribs cooked to order

Opportunity is unlimited at Golden Corral. Your vision and dedication are the keys to your success. We are committed to helping you reach your goals by providing you with proven systems and operations support to help you be successful.

Why Golden Corral?

$1.783 billion system-wide sales in 2012, another record year
#1 in the buffet restaurant category in 2011, 2012 & 2013 by Entrepreneur Magazine
#1 in grill-buffet segment for 14 years by Nation's Restaurant News

Interior of the new Golden Corral prototype "pavilion" design now in test features themed food stations, display cooking and fresh food preparation.
#1 Consumers' Choice in Cafeteria/Buffet Chains by Restaurants & Institutions
Named ALLStar Franchise in 2010 by AllBusiness Proven track record in obtaining financing from over 40 of the nation's leading lenders.
Active franchise advisory council
Privately-held company based in Raleigh, North Carolina with active founder and stable senior management team.
Combined purchasing power of almost 500 Golden Corral Buffet and Grill restaurants nationwide, with a leading national distributor for one-stop shopping.
Established in 1973...40 years of proven success
Famous for our best-in-class food offering and value pricing
Franchises available nationally with area development territories.
It is through entrepreneurs like you that the Golden Corral corporate Vision is being achieved. We invite you to become a part of the leading Buffet and Grill family restaurant system and involve yourself in this exciting opportunity.
If you are looking for a golden opportunity...
Please fill out the information form to the right or click here
Social Reach:
This web page does not constitute a franchise offering or an offer to sell a franchise. A franchise offering can be made by us only in a state if we are first registered, excluded, exempted or otherwise qualified to offer franchises in that state, and only if we provide you with an appropriate franchise disclosure document.
Golden Corral is the nation's leading family style restaurant franchise featuring steaks, buffet and bakery items.
Browse:
Request Information
Looking for more information about Golden Corral Buffet and Grill? Take a moment to fill out our quick information request form.