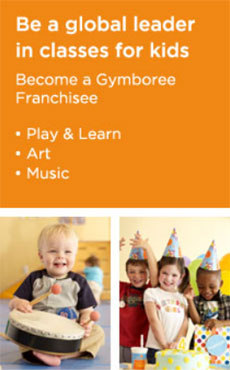 For over 30 years, Gymboree Play & Music carefully crafted programs have been helping parents and children to grow young minds. We are committed to the continued building of our world-class franchise system. We also continually develop our classes and program content to incorporate cutting edge learning and fitness activities. We bring fun, creativity and friendship to our customers and our franchisees too!
More than 700 Gymboree franchises in 50 countries prove what we have known since the start--children's play, art, fitness and music is serious business. As the creator and leader in interactive children's play, music, art and development programs, Gymboree Play & Music built a business system with an unequalled reputation. Our unique approach has created a loyal customer base that continues to grow worldwide. Our franchisees also have the advantage of being part of a rapidly growing Gymboree brand. We are quickly expanding in U.S. markets and opening new franchises all over the world.

What sort of people are Gymboree franchisees?
Gymboree Play & Music franchisees come from all walks of life but share a common passion for running their own business and for helping young minds develop. Naturally, you will need to like working with children. Skills in customer service, marketing, people management and a financial understanding will help you. Running a Gymboree Play & Music franchise requires many skills for which we offer training. Owning a Gymboree Play & Music franchise(s) is both challenging and personally fulfilling. If you want a business that helps future generations of children develop -socially, mentally and physically- then you should investigate a Gymboree Play & Music franchise.
New Developments
Gymboree Play & Music is constantly developing and enhancing its franchise systems. In the last year we have enhanced our development territory mechanisms, improved our demographic models and updated sets of proprietary equipment that is more challenging and allows children to be creative as well as foster greater parent-child interaction.
Key markets are still available in the US and internationally