MAKE OUR HOUSE, YOUR HOUSE!!! Any Meal. Any Time.
Our Advantages
NEW Restaurant Design
Diverse Menu
Superior Franchise Support
Strong Value Proposition
Attractive Capital Investment
Flexible Design for Various Venues
HUDDLE HAPPY! Why Huddle House?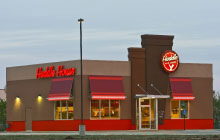 Huddle House family restaurants have been serving communities "Any Meal, Any Time" for over 47 years. An iconic brand, Huddle House is poised and ready to embark to even higher levels of achievement. We have many exciting things to chart our new future, including a new logo, building design, interior décor, and a revamped menu with delectable offerings. Huddle House prides itself on offering great quality food, at a value price, in a fun and inviting environment for our customers.
HUDDLE UP! Where are we? Where are we going?
With restaurants in 25 states, Huddle House is seeking qualified franchisees for single and multi-unit development throughout various regions of the country. Specifically, our target growth markets include the Southeast, Midwest, Mid Atlantic, and Central US.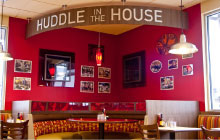 Huddle House's unique design is adaptable to various facilities, including our free standing prototype, conversions, c-store and truck stop joint development, motel/hotel joint development and high visibility shopping center end cap locations.
Our franchise development team stands ready to discuss your interest in single or multi-unit development for Huddle House. Please review the information on the website or call us directly to learn more about why it is a great time to "Huddle In" and develop a Huddle House.
Huddle House offers resale opportunities in the following states: AL, FL, GA, KY, LA, MO, SC, and TX.
This web page does not constitute a franchise offering or an offer to sell a franchise. A franchise offering can be made by us only in a state if we are first registered, excluded, exempted or otherwise qualified to offer franchises in that state, and only if we provide you with an appropriate franchise disclosure document.