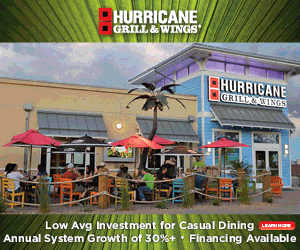 Hurricane Grill and Wings has 80 restaurants open or under construction across 15 states, and continues to expand rapidly with both corporate and franchised locations. Our cool, island - inspired atmosphere is supported by tested, professional systems, and features a menu focused on quality ingredients and innovative flavors.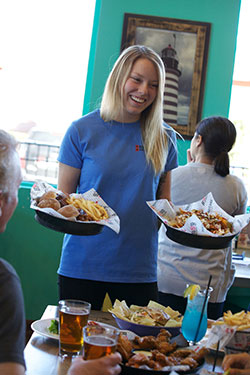 Best of all, from fresh Jumbo Chicken wings to 100% Angus burgers to seafood, salads and more, guests can customize anything on the menu with over 35 of our signature sauces and rubs.
Our Epiphany
Hurricane Grill and Wings was born in 1995 in a very small restaurant on the beach overlooking the ocean in Ft. Pierce, Florida. The goal was to serve the best Buffalo style chicken wings, while also creating a multitude of delicious sauces and rubs to add to them and offer truly something different. Only the best ingredients were allowed..... Jumbo chicken wings....always fresh ...... and the finest craft beers available! That first restaurant, which we still operate today, started us on surf ride that has been fun, fast and packed with flavors. Our restaurants now serve over 35 sauces and rubs on our wings or added to any of our chicken, beef or fish menu items. We have become a family restaurant serving the best wings, burgers, salmon, mahi-mahi, quesadillas, salads, and many other items .... all in the laid back casual atmosphere of a beach front shack! Our offering of craft beers has increased to over 14 varieties and our bar now serves a full lineup of island inspired cocktails including Hurricane's, margarita's, mojita's, bumby's and more. Are we having fun yet?
Our Unit Economics
We have compelling unit level economics including: one of the lowest costs of entry in the casual dining sector ($450k - $895k); comp sales increase 6 years in a row; system growth averaging 34% per year over the last 5 years; and a 2:1 sales to investment ratio. And, we have $10 million in financing available, as well as other finance options.
The Buildout
A terrific benefit of Hurricane Grill and Wings is our flexible layout and design of our restaurants. This allows us to fit into great spaces where other brands can't go. We love "second generation" restaurant spaces, saving our franchisees significant build out dollars. Our Hurricane Grill and Wings typically average between 4,000 and 5,300 square feet, with a patio (yes, we put tiki bars on our patios). Another big benefit - our kitchens produce a very wide variety of menu items with only 3 types of cooking equipment ......no angry chefs with saute pans, no ovens ...... all helping to reduce your labor cost in the kitchen.
Join us on our "Flavor Vacation" ...it's your turn to own the coolest place on the beach ...
Hurricane Grill and Wings ... Prime territories available and waiting!

Territory Restrictions: We have some territory that is sold out: the state of Colorado; some parts of Florida and Minnesota; please contact us for more detail