Love the Cheesesteak Buy the Whole Store.
Own your own Jerry's with a low initial investment and the ability to be in business in as
little as 45 days. Is franchising right for you?
Why Own a Jerry's Franchise?
60 Years of Success
60 years featuring the world's best cheesesteaks
One Brand: Two Concepts (Sub Shop & Pizza Shop)
Superior Support Services
Award-Winning Advertising
World-Class Training Program
Products suited to 2 day-parts (breakfast menu available)
Delivery rolled out in all locations
Jerry's has been famous for 'The World's Best Cheesesteaks' and NY Style Pizza since 1954. Our original roast beef sub with Jerry's Secret Sauce had people traveling miles to taste it. Legend has it that while making your sub, if you kept the owner, Max, talking while making your sub, you would really get your meat piled high!
In 1978, when Jerry's Famous Cheesesteak with our secret marinated sauce came along, the legend was born. Coupled with our delicious New York style pizza, it became famous throughout the DelMarVa region.
Exciting News! We have recently introduced "Delivery" to our business model, and are excited to bring this dynamic new business building feature to our brand. If you are a prospective new franchisee with prior experience in the Delivery business, we are currently offering a "special opportunity" for you to 'Own Your Own Jerry's' with a low initial investment and the ability to be in business in as little as 45 days.
Two Concepts in One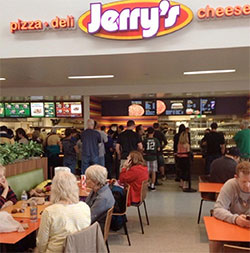 Sandwich chains serve sandwiches, primarily a lunchtime product. Pizza chains serve pizza, primarily a dinnertime product. Jerry's dual product line of both Subs and Pizza meet customer needs for both lunch and dinner day parts, thereby maximizing the sales potential of each franchise location. An optional breakfast program is also available for suitable locations.
Great food is an important part of the success equation. But servicing customers effectively is equally as important. Fast service that produces great food consistently and efficiently is critical to building a profitable business.
With Jerry's, you get the highest quality food - the freshest ingredients, juicy steak right off the grill, handcrafted pizzas piping hot out of the oven. Jerry's by far has the highest quality ingredients... chef inspired recipes...exclusive limited-time offers (LTO's)... deliciously unique Signature Cheesesteaks, only found at Jerry's... and a fantastic New York style pizza with a 60 year old secret recipe savored for generations. Quality and unique products that can't be beat!
Jerry's, the leader in the Better Cheesesteak Category!
Superior Support Services
Jerry's provides each franchisee with a comprehensive array of support services relating to every aspect of the unit development process. This development process does not end on opening day, as our marketing and operations departments provide support and consultation to franchisees on a regular and continuing basis in order to help them continue to build a successful business.
Some of the main areas of Support, which Jerry's provides, are listed below:
Architectural & Design Services
Assistance in finding a location
Training at Jerry's Cheesesteak University
Pre-Opening Assistance
Store Opening Assistance
Ongoing Operational Support
Local Store Marketing Support
What We're Looking For
We are interested in securing prime locations in your area right now! The JERRY'S SUBS & PIZZA, INC. chain is expanding, and there is high demand for suitable sites countrywide. Our flexible floor plans mean we can locate a store within almost any facility that you may have. It is in our best interest, as well as yours, that once a site is filled with a JERRY'S SUBS & PIZZA, INC. store that it remains a JERRY'S SUBS & PIZZA, INC. store. To submit a site for consideration, or if you have any questions, contact us today!