A #1 Rated Business Service Franchise
Minuteman Press has been the leader in the printing & graphics industry for over 35 years. Rated #1 by Entrepreneur Magazine 20 times, we have been assisting people in realizing their financial independence while providing them the opportunity to secure their financial future. You do not need prior industry experience to own a successful Minuteman Press center. We are looking for individuals who would like to own, operate and manage a business.
If you imagine a business where every other business is a potential customer then you have just imagined our business.All businesses large and small, from your small mom and pop operations to the large corporate businesses consume printed media on a daily basis. Not only do businesses need our services to operate daily; they also need our services for promoting and advertising themselves. We are uniquely positioned in the industry to provide all the print, graphic, advertising, direct mail & promotional items a business may need. Our centers produce consumable products that are handed out, mailed, written on, and eventually thrown away and need to be reordered regularly; there is tremendous repeat factor in our segment of the industry.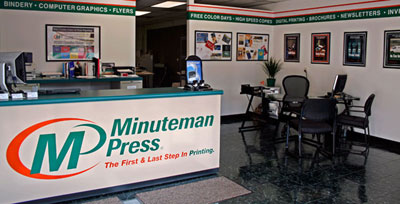 Why Minuteman Press?
Every Business is a potential customer
Every business uses some kind of printed items from business cards, letterheads, and envelopes to forms, marketing materials and promotional items. If you can put an image or logo on it we can produce it.
Over 35 years of experience and expertise in the industry
Minuteman Press is a family owned and operated business that has grown to be the largest printing and graphics franchise in the world. We have continuously worked on not only improving and refining our procedures, but also seeking out ways to better serve our franchise owners.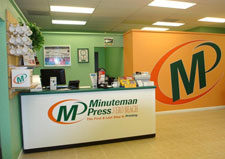 Business to Business
Our main target market is businesses and organizations in and around your community. We provide exceptional graphic design which gives our customers a professional image and our quality and customer service is unsurpassed.
One of the largest support staffs in all of franchising
We have 25 regional support offices and more than 100 employees that are dedicated to supporting our franchisees in every aspect of running a business. Our goal is to make you as successful as possible as quickly as possible.
Financing Available
Minuteman Press has numerous avenues of financing to assist people going into our business. We will assist in finding the right financing options for you; whether it is for the purchase of a new or existing business.
Award Winning Training
The vast majority of Minuteman Press owners have had no prior background in the industry and most have never owned their own business before. We have developed a comprehensive 2 week training program. We cover all aspects of the business marketing, management and pricing using our proprietary software management system. In 1978 Minuteman Press led the way with the development of our innovative pricing software, which has evolved into our unique proprietary management software.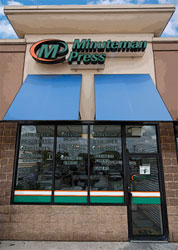 This software includes a cost information database including order history; shop work flow control and invoicing, as well as AR tracking and sales force management reports. All these features make the running of your center smoother and more efficient. You will leave the training school with a clear understanding of how to operate a successful and profitable Minuteman Press center. Once you return from training school a local representative will continue your training onsite. They will assist in everything from hiring employees to starting your marketing programs.
Ongoing Local Support
In order to continue the growth and development of Minuteman Press, we provide ongoing support through our 25 strategically located regional support offices. They provide business management, and marketing support to all of our locations on site; not over the phone from a corporate office hundreds of miles away. Our owners are truly in business for themselves, but not by themselves. They have the security & peace of mind knowing that we have over 35 years of experience in our industry and are available to assist, educate, guide and work with our owners on an ongoing basis to develop their business anytime they need it. Our Research and Development department continuously develops marketing & promotional programs for our owners, while monitoring & reporting on industry trends.
To learn more about our unique business model, available locations in your area and financing please contact us.