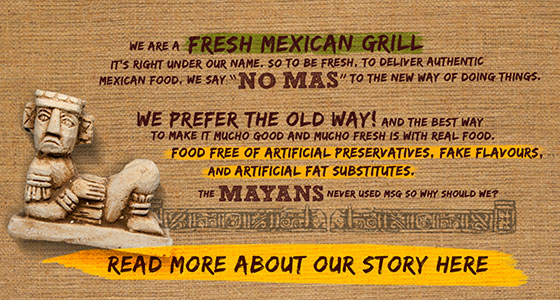 The Right Concept
Can Mexican food can be gourmet! You bet your burrito! And Mucho Burrito™ is proving it. We hit just the right notes with our made-to-order menu. Just one taste of our hand-rolled burritos, tacos and quesadillas will tell you how much effort we put into our mouthwatering products. And that means more mouthwatering customers to your store!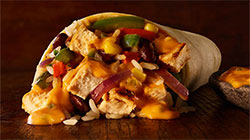 Our tender "barbacoa" (shredded beef) and "carnitas" (shredded pork) are slow-cooked (about 8 hours!) in an on-site roasting oven, retaining the tantalizing flavor of the Mexican seasonings we amply apply. There's a reason these meats are marinated overnight - it's called "succulent!" Delicious salsas and guacamoles are made daily.
Experience a taste of success! The fast-casual market is one of the fastest-growing segments of the food service industry. Customers are ready for a whole, new upscale, gourmet Mexican dining experience; and Mucho Burrito will be right there to supply it.
Store Design and Construction
Upscale. Bright. Comfortable. Mucho Burrito™ restaurants are designed by our architects to create a customer experience that's hard to beat. Mucho Burrito™ offers a fresh, fun contemporary atmosphere. The interior of our stores is awash in earthy colors that take their cue from the food and spices we serve - avocado greens, deep spicy reds and yellows.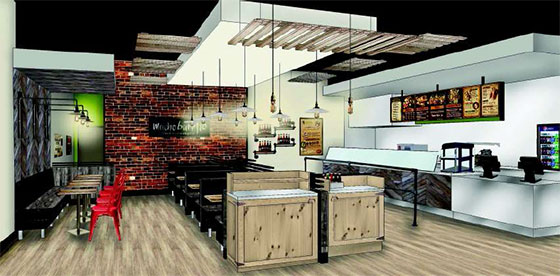 Training
Classroom lectures. Hands-on training, even cooking classes! Mucho Burrito™ University (MBU) offers an intensive training program teaching the skills necessary to become a successful Mucho Burrito™ Franchise partner. You'll graduate with a comprehensive understanding of our burrito making business. But hold onto your sombreros! We don't s there.
Marketing and Advertising Support
Mucho Burrito™'s marketing department provides you with marketing training, a user-friendly marketing manual, promotions and merchandising assistance. Upon joining Mucho Burrito™ you will receive immediate assistance in developing and executing an opening advertising strategy and ongoing advertising maintenance strategy focusing on your.
Ongoing Support
As a Mucho Burrito™ Franchise partner you will receive on-going operational and marketing support, in-restaurant evaluations, and business training classes. Our Field Representatives perform frequent visits to your restaurant in order to make suggestions, analyze your business, maintain system compliance, answer your questions and obtain your feedback.
Business Synergy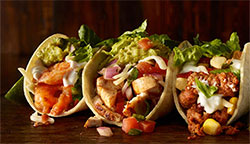 Every person who joins Mucho Burrito™ becomes part of a family where everyone works together for the good of the whole. Mucho Burrito™ coordinates ongoing seminars and workshops for all franchises.
Corporate Integrity
Mucho Burrito™ is a professional company owned and operated by industry professionals with a proven track record.
Popular Products
North America is going ballistic over BURRITOS! They've been around for hundreds of years and are now experiencing a revitalization of epic proportions! Burritos are exotic. They're full of spicy flavor and they're becoming the fast-food trend of the 21st century.
Industry Recognition
Mucho Burrito™ invests heavily in promoting and developing an attractive brand experience.
Become a franchisee
Want to become a Mucho Burrito™ franchisee? Get in touch today.