Killer Munchies, Made Fresh, Made with Aloha!

The 'Ohana Bros. snack formula is a winner:
Unique, great tasting products + fun, vibrant environments +
engaging aloha experience + a transcending brand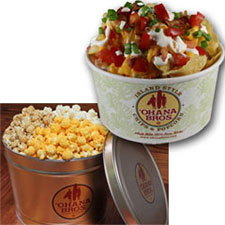 The 'Ohana Bros. brand transcends all ages and evokes fantasy, freedom and a sense of adventure. We're different because our food, stores and people are authentic, truthful and real. Clean food without unwanted artificial ingredients, impeccably clean stores, an engaging "aloha" attitude and our island vibe all support our vision of delivering a memorable snack experience.
Aloha is not just a way to say hello. Aloha is an outpouring of the spirit, a way of life, a set of values that guide us in how we live, how we treat the land and how we treat each other.

Keys to success:
Highly desirable mall and high foot traffic locations.
Simple menu that makes inventory and training easy to manage.
Unique island style snacks:

Island Fries - The perfect fry topped with heavenly goodness! Always freshly cut russet potatoes, tossed with all natural spices and dipping sauces.
Maui Style Potato Chips - Rich with unique flavors and distinct tastes. Customers will travel from great distances just to get their fix and stock up!
Hand-crafted Popcorn - We pop non-GMO mushroom style popcorn and use only the highest quality spices and toppings from purveyors around the world.
Hawaiian Shave Ice - Pure shave ice with house syrups made of natural extracts, fruit purees, fruit juices and pure cane sugar.

Made fresh daily.
Natural ingredients.
No artificial colors or flavors.
Gluten-free.
An environmentally and community conscious company.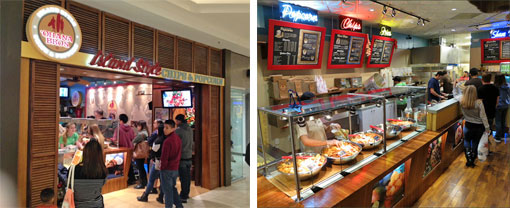 Our outstanding franchise program covers every aspect of the launch and building of your business, including:
Real estate site selection and build-out.
Architectural design.
Fixtures, furniture and equipment.
Branding - marketing and advertising.
Product sourcing.
Proprietary ingredients.
Comprehensive two-week training program, one at our HQ, one at your location.
Grand opening launch program.
Premier on-going support.
Whether you are a first-time franchisee or an experienced business owner, the 'Ohana Bros. franchise system empowers you to get more out of what you want from your business and your life.
When you join our network, you will enjoy a commitment to supporting your success that is exceptional in the industry. You'll become part of a winning team and experience a winning approach to business!
Are you ready to be a Bro?
We hope you join us! Contact us now to learn more.
Social Reach:
This web page does not constitute a franchise offering or an offer to sell a franchise. A franchise offering can be made by us only in a state if we are first registered, excluded, exempted or otherwise qualified to offer franchises in that state, and only if we provide you with an appropriate franchise disclosure document.
The 'Ohana Bros. brand transcends all ages and evokes fantasy, freedom and a sense of adventure. Now you can live the island life with your own...
Browse:
Request Information
Looking for more information about Ohana Bros? Take a moment to fill out our quick information request form.