Planet Beach is Expanding Internationally.

A Contempo Spa is a unique and innovative spin on traditional day spas. Customers pay a monthly membership fee for unlimited fully automated, push-button spa & UV services in a private room without the need of an attendant. These rejuvenating wellness services include four types of massages, two types of facials, hydration treatments, teeth whitening, guided meditation, oxygen therapy, weight management treatments, UV therapy and Mystic spray tans and a wide range of skincare and nutrition products all bundled together to help customer achieve their total skincare, wellness and stress relief goals.
The convergence of rising health care costs, aging baby boomers, growing life expectancy and the desire to live a healthier life have made spa and wellness services a necessity. Once only a luxury item, spa and wellness services are in high demand because they minimize health costs, reduce stress and help people live healthy, happy lives. This explains why Planet Beach Contempo Spa revenue numbers are growing system-wide, even in today's tough economy. Stress relief is the number one reason customers visit spas and Contempo spa is able to offer luxury spa services at non-luxury prices.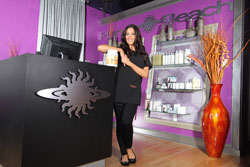 Lower prices mean the average customer can visit a spa several times a week and benefit from a variety of services. That's the genius of a Planet Beach Contempo Spa: the average customer can get health and wellness services for one low monthly price and can use what they want, when they want. "We have regular customers visit our spas 2-3 times a week. If they had to pay hourly rates for our services, they would spend well over $2000 a month," Steve Smith, CEO of Planet Beach Franchising Corporation. "We've made it possible for most people to afford regular relaxation and rejuvenation."
"We picked Planet Beach Contempo Spa for two main reasons. The level of service from corporate is top notch, and that's extremely important. We were -- and continued to be -- very impressed with the Contempo Spa concept. We knew that one else in town was going to have the selling point of a fully automated, affordable day spa. It really came down to that. This is a company that's going to continue to be relevant."
Charlotte and Sean Nemec, Spokane, WA
"Health and wellness is really important to our clientele. It's also very important to my family. People are frugal in the Midwest, so you have to offer them a service that's practical and very valuable. The response to Planet Beach Contempo Spa in our community is just great. This is a business we feel very proud of."
Dana is also pleased with the growing career potential offered by Planet Beach Contempo Spa.
"We are constantly recruiting career-minded people out of college. It's really very exciting. Young graduates see the great promise of the health and wellness industry."
Dana and Brad Eilersten, Deer Park, IL