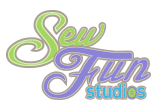 Sew Fun Studios Has Arrived!
Awarding Franchises Now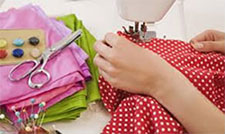 The Sew Fun Studios™ model introduces the art of sewing to adults and children from age 6 by utilizing basic and advanced sewing techniques. Whether it's a birthday party, summer camp or ladies night out; using speed adjustable sewing machines, colorful fabrics, trims and embellishments, customers walk away with a beautiful piece of handiwork and a sense of accomplishment.
As a mother of three, Wendy Berglass found herself attending countless birthday parties and began noticing that each one was essentially the same. It was time for a change. She thought back to the numerous occasions when her daughters and their friends would spend hours in her sewing room creating things they could be proud of. "I thought that if I could think of simple seamed projects that can be completed in 90 minutes, I'd be onto something." That is when Wendy decided to establish Sew Fun Studios™ and a new, unique kind of party was born. Wendy started with just birthday parties five years ago, but now operates after-school classes, field trips, summer and holiday camps, ladies night out, and soon courses in fashion and interior design.
With home economics no longer offered in most schools, there lies a huge opportunity to teach children 6 and over the art of sewing and design.
Our Model
Sew Fun Studios™ introduces the art of sewing to children and adults, while providing a fun and friendly environment in which to learn. Engaging instructors guide students through all aspects of design using digital Brother sewing machines.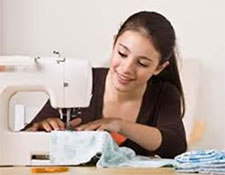 Sew Fun Studios™ has a high probability for success in your area because:
It's a proven successful model
Requires only a modest investment
Has NO national competition
Takes advantage of an overlooked niche
Affordable classes, camps and birthday parties
Classes and birthday parties offer families value through a creative and unique learning experience
Year-round income
Repeat customers for years
Turn Your Dreams Into Reality
For many people, the idea of owning a business is just a dream. With the ability to be your own boss and create a new career, the Sew Fun Studios® franchise can turn your dreams into reality. Start enjoying the many benefits of business ownership.
Our Franchise Program
Startup Support
Territory analysis
Prototype Architectural Plans
Approved franchise network suppliers
Initial supply of marketing materials
Supply of all sewing patterns used in the Sew Fun Studios system
Training
Four-day comprehensive classroom training at our training facility plus one day onsite training program
Exclusive use of our proprietary Operations Manual
Franchise Management Tool (FMT) - Our proprietary hosted software to help you manage your business
Tools for Success
Use of Sew Fun Studios™ name, logos and trademarks
Access to proprietary and proven systems and techniques designed to make business ownership simple and efficient
A well-managed, easy to find website to promote your Sew Fun Studios® business that will include your contact information as well as class, birthday party and special event schedules
A proprietary email address
A Research and Development team working hard to stay ahead of industry trends
Sales and Marketing training utilizing our proven marketing strategies
Ongoing Support
Annual franchisee meeting
Meetings, teleconferences and workshops designed to keep you informed and ahead of market needs
Sew Fun Studios™ is a wholly -owned subsidiary of Creative Learning Corporation (CLCN) owner and developer of the award winning Bricks 4 Kidz®, and Challenge Island®, the highly-popular children's education and enrichment programs.
This web page does not constitute a franchise offering or an offer to sell a franchise. A franchise offering can be made by us only in a state if we are first registered, excluded, exempted or otherwise qualified to offer franchises in that state, and only if we provide you with an appropriate franchise disclosure document.