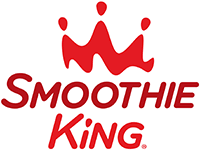 Celebrating More
Than 40 Years Of Success

Smoothie King first introduced the nutritional fresh-blended fruit smoothie more than 40 years ago when founder Steve Kuhnau began experimenting with mixing real fruit, nutrients and proteins in a blender at home. Soon enough, his concoctions began to have a positive impact on his health, which spawned the creation of the first Smoothie King in 1973.
By 1989, Smoothie King became the first franchised smoothie bar / health food store in the United States. Since then, the brand has expanded its reign to include a wide selection of healthy retail products, including sports beverages, energy bars, healthy snacks, vitamin supplements, herbs, minerals and other sports nutrition products.
In July 2012, Smoothie King co-founders Steve and Cindy Kuhnau sold controlling interest of the Louisiana-based company to SK USA, Inc., headed by CEO Wan Kim, a successful franchisee with more than 100 stores throughout South Korea.
Today, Smoothie King has more than 650 units worldwide operating in 33 U.S. states, South Korea, Singapore and the Cayman Islands.
A Fresh Opportunity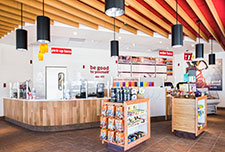 Smoothie King is on track to become the most recognized smoothie concept in the world and is now seeking qualified candidates to drive the brand's growth.
Consumers today have an increasing desire to live a healthier, more active lifestyle. Smoothie King's wide variety of fresh-blended, healthy smoothies, juices, nutritional supplements and snacks meet that demand. This consumer demand is fueling Smoothie King's energized growth under new Global CEO Wan Kim with plans to add 1,000 new franchised and corporate locations across the United States over the next five years.

Why Smoothie King?

Named #1 juice bar in America by Entrepreneur for 20 years
40 years of brand heritage
The top 10 percent of stores average over $640,000 with the average unit volume more than $360,000
Multiple revenue streams: smoothies, snacks, retail and nutritional supplements
Simple operations with no cooking, little waste and limited inventory
Convenient hours of operation
Unparalleled management training and on-site support
Grow With Us
Smoothie King has extensive franchise opportunities available in the Southeast, Mid-Atlantic and Northeast regions, as well as Texas.
Brand Innovation & Design
Smoothie King offers more than 40 smoothies with real fruit, all-natural juices and a functional mix of vitamins and nutrients to fit every need and lifestyle.
The brand's dedicated Research & Development team is constantly testing and introducing new product offerings to enhance the menu, drive business for franchisees and, ultimately, meet the evolving needs of today's health conscious consumer.
Smoothie King's flexible development concepts are perfect for a variety of real estate formats, from freestanding stores and drive-thrus, to airports, food courts, mall kiosks and even gyms.
The Ideal Location
Smoothie King's real estate professionals work closely with franchisees to assist them in finding and securing the most suitable location for each market. The site criteria is:
Great visibility and access
800 - 1,600 square feet
20' store front
Three to six parking spaces
Population: 25,000 in three-mile radius or accessible trade area
Multi-day part traffic: 20,000 cars/day (breakfast, lunch, afternoon snack, dinner, post-/pre-workout)
Median household income above the median for the DMA
Co-tenancy: Grocery stores, health clubs, QSRs and service-oriented retailers
End-caps, freestanding or strong in-line stores preferred
Drive-thru access
Training & Support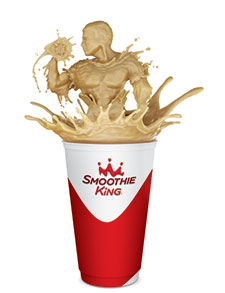 Smoothie King's experienced management team provides an unparalleled level of support from inquiry to opening to help franchisees succeed.
Franchisees receive comprehensive training in all aspects of owning and operating a Smoothie King, including a 12-day management-training program at the corporate training and test center in Metairie, La., and seven days of on-site training in their new store. The training also includes operational, marketing, nutritional and guest services classes, in addition to hands-on training behind the smoothie bar and on the sales floor.
Following the store opening, franchisees continue to receive ongoing support through in-store evaluations, business-training classes, seminars and workshops.
Is Smoothie King Right For You?
Single- and multi-unit operators with entrepreneurial spirit
Sales, marketing, restaurant and/or retail experience
Passion for the brand and desire to help more consumers lead a healthier lifestyle
Minimum liquidity of $75,000 per unit and net worth of $250,000 per unit