Submarine House Bar & Grill Franchise Opportunity
The Submarine House, built in Dayton in 1973, was the first to introduce the East Coast Cheese Steak to Ohio. Today, we serve everyone's favorite sandwich in a Bar & Grill environment, setting us apart from the crowd of pizza and wing places. Sub House Bar & Grills offer customers a full menu featuring numerous cheese steak options, salads, oven-toasted deli subs, appetizers, desserts and more! While we offer a variety of options, we're known for our 16" subs, with "The Works", surpassing those 12" subs. The franchise generates more revenue from additional sources, including our full bar service with a wide array of mixed drinks, beers and wines. The fast-casual environment with large screen televisions, game consoles, Keno and live music - making this original restaurant a new classic. We were even voted "Best Submarine Sandwich" on ActiveDayton.com in two of the last three years.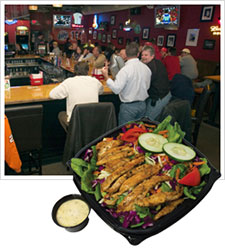 As part of the expanding Submarine House Bar & Grill franchise, you will take part in a well-planned vision that can offer excellent returns within the first year of business and the potential for financial independence. Our Bar & Grills capitalize on the convergence of several trends influencing buying behavior and giving us a unique, sustainable advantage. The first identified trend is community and entertainment in a bar and grill environment. Customers today are looking for a sense of community outside of the workplace and home. To address this trend, we've added many flat-screen televisions, arcade style games, trivia and live entertainment. The trend toward the fast casual atmosphere has also shaped our business model, as this market has more than doubled in size over the past five years. Results from market research show that fast casual is considered a healthier substitute for fast food and nearly half of consumers are willing to pay more for fresh, superior quality food. Yet, customers are still searching for convenience, which is why our carryout, delivery and catering options have such strong appeal. We also offer healthier menu items and fresh, quality ingredients. While these trends will ebb and flow through the years, the concept of the community bar and grill remains intact in American culture.
Targeted Marketing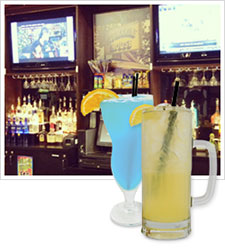 All franchise members can also take advantage of our targeted, corporate marketing strategy, designed to raise awareness regarding Submarine House Bar & Grill offerings and value. We provide regular in-store promotions, print ads, an online image library and more, to build customer loyalty and extend the brand geographically. Specifically, we've developed strategies geared toward our diverse consumers: an optimized website, submission to local listings, email program, regular advertisements in consumer publications, social media marketing and direct mail to local businesses promoting delivery and lunch options.
We're looking to expand our brand and are always seeking interested, qualified individuals to become franchisees. As an owner/operator, you'll have tremendous potential to achieve your personal goals of financial independence by building off a brand that's established, executing a plan that's easy to ramp-up and by maximizing proven strategies to drive profit.
On-going Support
Before you open your restaurant, the owner or designated manager must attend and complete, to the Submarine House Bar and Grill's satisfaction, an initial training program pertaining to the operation and administration of the Franchised Bar and Grill. We will loan a copy of the Submarine House Bar and Grill Operations Manual containing standards and procedures. We will then provide ongoing support with visits to your restaurant.
How much are the Royalties and other related fees?
The royalty fee is 4.5% of your Gross Sales, which is paid on a weekly basis. The fee allows you to use the Submarine House Bar and Grill trade name and associated service marks, access to operational systems, purchasing discounts, operations support, training, consulting, and marketing assistance. The marketing fund fee is 2.5% of your Gross Sales, which is paid on a weekly basis. This is used to promote the Submarine House Brand through different avenues such as the Web, Facebook, Twitter, and Print Media. In addition to this, Franchisees are required to spend 2% on Local Store Marketing and Promotion within your trade area. View the Franchise Requirements page or submarinehousefranchise.com for more information.
Ready to Get Started?
Before you sign the dotted line, evaluate your own personal strengths and weaknesses based on the personality traits below:
You're a people person.
You can occasionally play the bad guy.
You're comfortable asking for help.
You're ready to put in long hours.
You believe in the company/product.
You have realistic expectations.
If becoming a franchisee excites you and matches your personality type, the Sub House Bar & Grill is a sound and profitable business to invest in! With low start-up costs and below average royalty fees, you'll be your own boss in record time!
Start Your Own Original, Join the Expansion