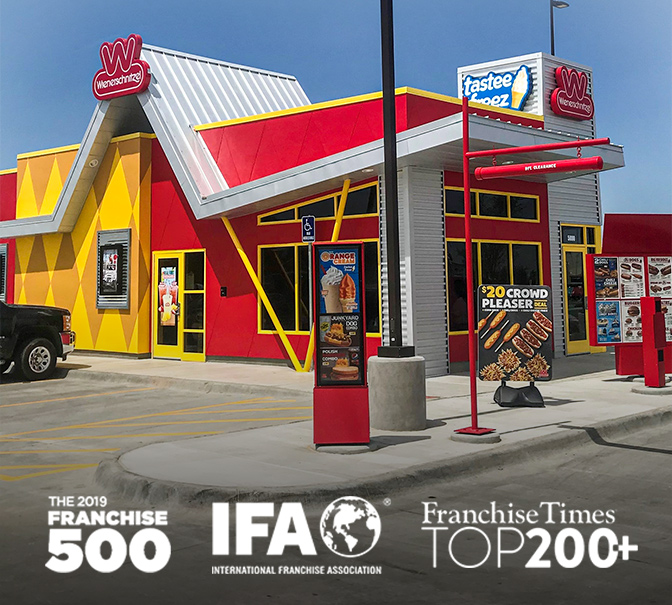 Wienerschnitzel wants you to join our franchise family. Why? As a prominent franchise of over 50 years we OWN the hot dog category, and want to share our business success with you. We are the World's Largest Hot Dog Chain and drive loyal customer following through a high quality, UNIQUE but simple menu, with branding and execution that is envious by competitors. We are Americana... edgy, fun and growing our next-generation restaurants today. We have increased same store sales average, system-wide, the past four years and invite you to learn more about our awesome brand!
2016 Opportunity Highlights
NEW cost-effective, and highly compelling restaurant design
Small real estate footprint requirements
Simple operations
Low food costs
Outstanding products, quality and taste
New Marketing and Visionary team driving new waves of loyal customers
Broad customer base with core menu offerings and innovative monthly LTOs
World-class, hands-on training
Over 200 years combined Operations team experience to support you
Franchise includes Tastee Freez as a simplistic, and scrumptious soft-serve dessert
The Wienerschnitzel mascot, "The Delicious One", cannot be beat!
Highly experienced leadership team and strong company financials
Family owned and operated since 1961. Our franchise partners are our family - and you will have the chance to connect with them first-hand.
No chain serves more hot dogs than Wienerschnitzel. With our proprietary and mouthwatering Chili Cheese Dogs, Chili Cheese Fries, Corn Dogs and Soft-Serve ice cream - we have a proven recipe for your success. We stay true to these core food items, and do this menu better than anyone else.

Category Leader
Ranked #142 in the 2016 Franchise 500 - Entrepreneur Magazine
Tastee Freez - Soft-Serve Dessert Comes FREE with your Franchise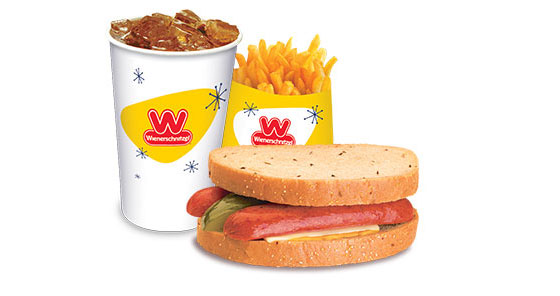 Next generation Heritage store; Freestanding 730' - 1,200' square foot with drive-thru, on as little as 15,000' square foot pad.
Growth Opportunities
Single, multi-unit, and select exclusive territories available in existing markets: AZ, CA, CO, IL, NM, NV, UT, WA, TX
NEW market exclusivity available for multi-unit development only: AK, AL, AR, GA, HI, ID, KS, LA, MO, MS, MT, NE, OK, OR, TN
Wienerschnitzel is excited to announce
new international development opportunities!*
As of today, we have signed Master Licenses in Guam and Panama. While we would like to grow the world over with our famous brand and hot dogs, we encourage your international inquiry under the following guidelines:
Only Master Licenses are granted for an entire country with proper qualifications
Must have $2 million - $10 million U.S. dollars available to build-out and development of Wienerschnitzel. Actual financial requirement is dependent on market size
Must be an existing QSR multi-unit operator, in designated country(s) with strong expertise in:

Local knowledge and access to real estate in territory.
Solid understanding and capability with local construction.
Local food distribution and sourcing logistics.
Must employ excellent local staffing to manage restaurants in territory.
*No international single unit restaurants offered.*
Must have sufficient funding to develop entire territory = $2 million - $10 million U.S. dollars available to fund Wienerschnitzel development
*Target markets ONLY for new growth: Central and South America, and select Asian and Middle East countries. With apologies, but we are not developing in India, Africa, or Europe at this time.
Ideal Candidate
We're looking for franchise partners who are committed to being hands-on owner/operators and will follow a proven model through training requirements. Restaurant experience mandatory. Outgoing, fun and best-in-class customer service with your staff, a must. Financial requirements include having liquid resources of $250,000 with a net worth of $600,000. These are fiscal parameters for a sole proprietor, or combined business partners. Being a Wienerschnitzel Brand Ambassador carries tremendous responsibilities - and a lot of clout!
Begin your journey of discovery today!