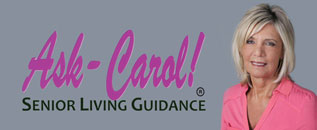 All About Ask-Carol! Franchises
Helping Seniors One at a Timesm
I started Ask-Carol! after helping my own Mom (and her nearly blind boyfriend) find Assisted Living. It was a tough time, and I had no one to guide me. I made many, many mistakes, and I soon decided to help others avoid them. I found that not only could I help families, but I could get paid by facilities for making placements. Over 2,000 families have sought help, and now I invite you to consider joining my franchise program.


OUR BUSINESS IS ASSISTED LIVING, ONE OF AMERICA'S FASTEST GROWTH MARKETS. We know the assisted living business inside and out and are considered industry experts, working with families who need senior care. We're based on the Jersey Shore about thirty miles south of New York City.
WE PLACE ELDERLY PARENTS IN ASSISTED LIVING FACILITIES. For them, living at home is no longer possible. Usually it is a crisis that brings families to us, and they need to place a parent within days or weeks.
WE EARN A COMMISSION FOR EACH QUALIFIED PLACEMENT. You might say we do well by doing good!
WE CAN WORK FROM HOME but never invite clients, nor do we make home visits or accompany our clients on facility tours. Efficient use of time maximizes our opportunity.
WE ARE SOCIALLY RESPONSIBLE. We help everyone who needs us, even if occasionally it will not produce income. Sometimes we need only refer a family to a social worker, but most often it is to facilities. Those we help become referral sources later.
WE SUPPORT THE ENVIRONMENT, and use little or no paper - all of our work is done by email and telephone.
WE WANT CANDIDATES WITH STRONG PEOPLE SKILLS, high empathy, and perhaps experience in the healthcare industry (or with an elderly parent). Those new to our business will soon achieve the industry designation of Certified Senior Advisor, which assures families and facilities of our unmatched expertise.
WE REQUIRE A TOTAL INVESTMENT OF $58,750 TO $89,250 including the franchise fee of $49,500, working capital, and everything you need to get the business up and running. At least one person should be involved full-time in the operations of the franchise.
ASSISTED LIVING IS ONE OF THE FASTEST GROWTH MARKETS IN THE WORLD. The age 65+ population will nearly double in the next twenty years, and their adult children will be faced with making difficult decisions for them
One million seniors currently reside in over 30,000 Assisted Living Facilities generating $37 billion revenue
A healthier aging population creates a greater need for Assisted Living, while the need for the more expensive skilled nursing homes is stable or declining
Ask-Carol! helps families navigate the once-in-a-lifetime complexities of finding safe and appropriate housing for elderly parents who can no longer receive adequate care at home or from their children
Families receive free assistance from our Certified Senior Advisors (CSAs) who research the appropriate facilities and help each family decide which is right
We are well-embraced by the assisted living industry because of the high quality and cost effectiveness of our referrals
Nearly all assisted living facilities have rooms to fill beyond the capability of their internal marketing and sales programs
We are paid by assisted living facilities for qualified referrals that result in placements
THE RESPONSES FROM OUR CLIENTS ARE AMAZING: "You've become like part of the family" is the most common one. The responses we get from our facilities are equally amazing: "We contact your referrals immediately because we know they are good ones" is one we hear most often.
Are you ready to start? Fill out the form to the right to get the ball rolling.