Spend your days with music while
building a company and having a blast.
Open a Bach to Rock Music Franchise
Owning a music school in your community could be the business breakthrough you've been waiting for. And a Bach to Rock franchise is the smart way to make it happen, with a business model created for the return on capital you need.
Why music education?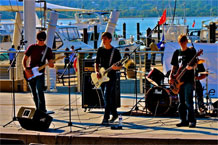 Music has never been more central to popular culture. From television shows like American Idol, The Voice and Glee, to iTunes, to video games like Guitar Hero and Rock Band, America's more addicted to music than ever before. And Bach to Rock is poised to meet this growing demand. In addition, reductions to public school arts budgets, coupled with kids' desire for musical instruction in popular genres, are driving the rapid adoption of new, innovative music education resources such as Bach to Rock. In fact, private lessons are now the number one way for students to learn to play an instrument, overtaking school lessons in the past few years.
Why a Bach to Rock franchise?
Named a Top Ten franchise by Inc. Magazine
Strong margins, attractive returns and recurring revenue
Serving a wider age range than other franchised music schools, including adults
Multiple revenue streams (rent out your recording studio to local bands, host parties, and more)
Proprietary curriculum jump starts your business
Prime territories available
After completing the information request form, you'll receive information about:
What territories are available;
Exactly what training and support we provide;
What your investment will be.
The curriculum is in place. The market is there. Contact us today.
This web page does not constitute a franchise offering or an offer to sell a franchise. A franchise offering can be made by us only in a state if we are first registered, excluded, exempted or otherwise qualified to offer franchises in that state, and only if we provide you with an appropriate franchise disclosure document.