Build a Bigger, Better Future

Whether you're an existing multi-unit operator with a non-competing brand looking to expand your portfolio of franchise-owned businesses, or an entrepreneur looking to invest in and own your own business for the first time, our franchise opportunity can help you build a bigger, better future. Batteries Plus Bulbs is the nation's largest and fastest-growing battery and light bulb franchise, and offers you a proven business model with over 25 years of experience. We are seeking new entrepreneurs as well as experienced multi-unit operators who are looking to take control of their financial future and grow with us. With over 630 locations nationwide and in Puerto Rico, we offer a nationally recognizable brand, products people need, and multiple revenue streams.
We've become the recognized leader in the expanding battery and light bulb markets, differentiated by superior product knowledge, product availability and helpful advice. With access to more than 45,000 types of batteries, light bulbs and related products, for home and business use, we're the largest single-source supplier for all battery and lighting needs. We continue to expand our services to keep pace with demand by now offering in-store repairs for Apple® devices, including iPhones®, iPads® and iPods®, most Samsung® devices and many more. Services include: battery and cracked screen replacement, as well as charge port, button and antenna repair, among others.
Our franchise opportunity offers you the chance to sell needs-based products while providing expert knowledge and superior service to both retail and business customers alike.
Stability You Can Trust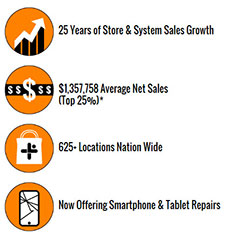 Every home and business uses batteries and bulbs and will continue to do so well into the future. Now you can leverage this demand by owning a business selling these two consumable needs-based products to both retail and business customers.
We are a trusted source, selling top-quality brands such as Duracell® Ultra and Rayovac® as well as the broadest assortment of products like LED bulbs and batteries for smart phones, cars, motorcycles and hundreds of applications. However, it's our expertise and helpful advice, along with our variety of services,that keep our customers coming back. We're a recession-resistant business, having experienced 25 consecutive years of system sales and same store sales growth.
Industry Demand
Batteries Plus Bulbs serves the expanding $30.7 billion U.S. battery industry and the rapidly-growing U.S. light bulb industry estimated to be at $17 billion in sales (Freedonia Research Study). With 28 battery-powered devices and 61 light bulb sockets in the average U.S. household, and even more in many businesses, the future is bright for our business. Also, with 30% of iPhone® users experiencing accidental damage in the last 12 months, our new smartphone and tablet repair services will represent another revenue opportunity for you. It's truly hard to find a franchise with more potential for return in this investment range than Batteries Plus Bulbs.
Franchisee Satisfaction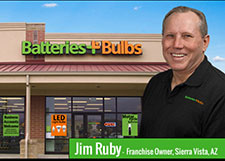 With average store sales being $1.36M* for the top 25% of our stores, our franchisees continue to make the most out of their franchise opportunity by growing their business. They're also reinvesting by opening additional stores. In fact, 1/3 of our franchisees have opened an additional 130 stores over the last 3 years alone. We are proud to be their partner, giving them the support they need along the way, and helping them fulfill their dream of owning their own business.

Comprehensive Training & Outstanding Support
At Batteries Plus Bulbs, each franchisee receives valuable resources, comprehensive training and ongoing support which may include:
Real estate and store design
Extensive initial and ongoing training programs
Business-to-business sales training
On-going field support
Marketing (Grand Opening and ongoing media planning/buying and advertising support)
Category and product management
Product call-center
Point of Sales system
Product quality assurance and technical support
Proprietary online cross-referencing tool
Intranet
Recycling
Franchisee Mentor Program
Industry Recognition
Entrepreneur® magazine has ranked us one of the top 500 franchises in America for the past 20 consecutive years and #1 in the battery category for the past five. Forbes® also recently ranked us as the #4 Best Franchise in America in their mid-range investment category. We've also been included on the Inc. 5000 list of America's Fastest-Growing Private Companies for eight consecutive years.
Multi-Unit Franchise Operator Development Initiative
As an existing franchise owner, are you looking for that next business opportunity for yourself or a family member? Are you looking to grow your existing franchise business, but there is no territory available in your current market? Perhaps you're looking for a franchise opportunity allowing you to sell to both retail and business customers, manage a smaller staff, and sell products that, unlike food, won't expire. If so, we may have the perfect opportunity for you. Through our Multi-Unit Franchise Operator Development Initiative, we are offering extraordinary support, including discounted fees to help assist qualified multi-unit franchisees from non-competing brands in the development of 2 or more Batteries Plus Bulbs stores.
Trust the Plus and Join the Leader
Bring your multi-unit franchise operating skills and experience to the table, along with a desire to diversify your franchise business portfolio, and continue to build your future with our franchise opportunity.
As our expansive line of products and services continues to evolve, so too may the range of opportunities to grow your business. Here's your chance to leverage two rapidly burgeoning industries, batteries and light bulbs, to satisfy the increasing demands of consumers and businesses for both products. We are continuing to expand and look forward to the possibility of having you join us.
*Net sales average of $1,357,758 is based on the net sales average for the 136 stores that represent the top 25% of all 545 stores open during the entire 2013 calendar year. Of those 136 stores, 48 stores (or 35% of the 136 stores in the top quartile) met or exceeded the net sales average (or 8.8% of the 545 stores open during the entire 2013 calendar year). See Item 19 of our 2014 FDD for further details.