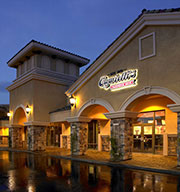 Since our founding in Wilmington, Delaware in 1976, Capriotti's Sandwich Shop has done things differently, creating flavor profiles unmatched in the fast casual segment. Anyone can slice meat, put it on bread and call it a sandwich, but we have set ourselves apart with our passionate focus on the quality of our food and superior service. We don't just have customers, we have fans and they are avid supporters of the Capriotti's difference.
Headquartered in Las Vegas, NV we have 95 restaurants operating across 12 states. You will also find 6 locations in casinos in Las Vegas, Pahrump and Laughlin, NV.
The Capriotti's Difference
We understand that our success is ENTIRELY dependent upon your success
Capriotti's Mission is "to share our passion one sandwich at a time"
Unique flavor profiles created by proprietary recipes and process
We slow roast whole, all natural turkeys and roast beef in our shops everyday
Truly hand-crafted subs, made to order with homemade ingredients
A highly scalable, simple, and efficient operating system
Recognizable branding and design elements
National purchasing power with no hidden charges or product markups
Gobbling it up
Today, our national growth strategy is to grow through franchising and Company development. Our goal is to operate 10% of the stores in the system. The rest of the growth will come through franchising. Our ideal candidate is driven to succeed and is never willing to settle for second best. We have no plans to be the biggest but we are dedicated to being the best.
The Capriotti's Experience
We have a dedicated Support Center team that knows our success is ENTIRELY dependent upon the success of our franchisees!
Capriotti's provides comprehensive 4 week training plus training in your restaurant pre and post-opening
Our technical support and tools allows you to focus on serving extraordinary food and guest service
Franchisees are provided with iPads containing necessary apps, digital manuals, recipes, connections to suppliers and the company intranet.
World class marketing team committed to providing the tools and advice to market your restaurant
Support systems providing our franchisees with a level of service that would rival larger organizations
Awards
Boasting "Best of" awards through Delaware, Las Vegas, Dallas, Quad Cities, Eastern Shore, San Diego, our reputation for excellence is unrivaled.
Voted "Greatest Sandwich" in America by AOL
USA Today: "10 Great Places for a Surprising Sandwich"
The Bobbie, voted Greatest Sandwich in America