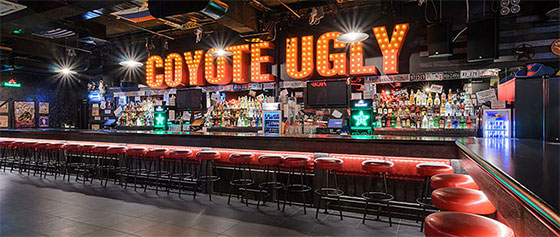 Own A Franchise
At Coyote Ugly Saloon, we are focusing on aggressive Global Expansion in non-US Territories; that means huge opportunities for potential Franchisees!
Our Business Model
Coyote Ugly Saloon has a simple and unique business model, as the Founder Lil figured out over 20 years ago, Beautiful Girls + Booze = Money! Our carefully engineered, proven systems simplify the Coyote Ugly Saloon operation, empowering franchisees to dominate our segment and take advantage of the most famous bar on the planet and a brand known to the world.
Becoming a Coyote Ugly Franchisee
We award franchises to only the best candidates in each market that we believe will represent the brand with integrity and follow our proven process to be successful. The continued growth and success of our brand depends on finding the right franchisees, and our highly experienced, amazing team works side by side with them to deliver the support needed to dominate each market.
Qualifications
At Coyote Ugly Saloon, we believe that the success of our brand will be a direct result of the quality of our operators and developers. Our selection process starts with choosing only the best candidates who share our commitment and enthusiasm for providing the full Coyote Ugly experience.
Coyote Ugly Saloon franchise candidates should meet the following criteria to be considered for a franchise opportunity:
Management and Operating Requirements
Multiple years in hospitality, multi-unit food and beverage operations, business ownership and development experience strongly preferred.
The ability to deliver an unrivaled customer experience while having a commitment to develop the Coyote Ugly Saloon culture.
Live in your market and have strong local community ties.The ability to manage recruitment, training, employee retention and dedicated to following a system and demonstrating operational excellence.
Think You've Got What It Takes?
If you'd like to begin the process and see if you make the Coyote Ugly cut, please complete the form. After we receive your information, we will contact you to discuss the opportunities available!
This web page does not constitute a franchise offering or an offer to sell a franchise. A franchise offering can be made by us only in a state if we are first registered, excluded, exempted or otherwise qualified to offer franchises in that state, and only if we provide you with an appropriate franchise disclosure document.