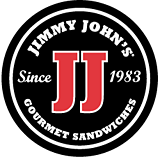 Jimmy John's Sandwich Franchise:
Jimmy John's success is built upon an unyielding commitment to quality coupled with an unbeatable, repeatable process.
Interesting Fact(s):



Fastest-Growing Franchises - #11 (2012)
Franchise 500® #6 (2015)
Ranked #1 in category (2015)
Franchising since 1993




Franchise fee: $35K
Royalty fee: 6%
Franchise Agreement: 10 years, renewable
Absentee ownership of this franchise is NOT allowed.
Total units: 2203, 350 more projected for 2015
Franchise Fees: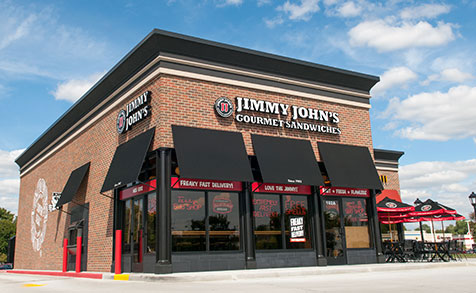 Jimmy John's franchisees pay an initial franchise fee of $35,000. Fees for subsequent stores are $30,000 respectively.
Individuals typically need a minimum of $80,000 in non-borrowed personal resources to qualify for financing thru third-party lending sources, Jimmy John's does not provide financing. The total cost of each unit varies by size and location.
Royalty and continuing services fees are 6% of gross sales.
Advertising fees are 4.5%.
FAQ's
How can I open a Jimmy John's franchise?
Jimmy John's actively seeks highly qualified individuals to become franchisees. Prior business experience, coupled with personal financial qualifications, individual motivation and a track record of success are important factors in our evaluation process. If you are interested in pursuing single or area development opportunities as a Jimmy John's franchisee, please read the information below and be sure to complete the following brief questionnaire.

What is the typical size of a Jimmy John's location?
The average size of a location is approximately 1,200 - 1,800 square feet.
What are the average annual sales of a Jimmy John's store?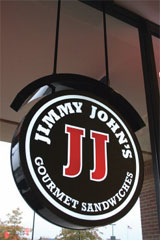 Average 2014 annual sales were $1,367,810. You are welcome to contact existing franchisees to find out what their sales are. Most franchisees are willing to discuss such information with you once it is determined that you are serious about investing in a Jimmy John's franchise.
What kinds of training can I expect as a franchisee?
All new franchisees participate in an intense 17-day training, then they must enroll in a 4 week mandatory apprenticeship program.
How is food quality and consistency maintained?
All proprietary and contracted food products, with the exception of produce, are delivered by a national distributor to all stores on a weekly basis. Our vegetables are purchased from local sources and are delivered to your store fresh daily. In this manner, the high quality Jimmy John's sandwich you enjoy in Champaign, Illinois is the same as the tasty sandwich we make for you in St. George, Utah or any other Jimmy John's location.
Learn more about why Jimmy John's has been named one of the best franchise opportunities today.
Jimmy John's offers investor growth opportunities. The average Jimmy John's franchise opens a second store within two years of the first. Multiple unit owners are our fastest growing franchise segment.
To immediately receive more information from Jimmy John's, simply fill out the short form below and contact information will be emailed to you.