Open A "Top Pick" Breakfast and Lunch Franchise
A Restaurant Franchise With Great Hours
A New & Exciting Restaurant Franchise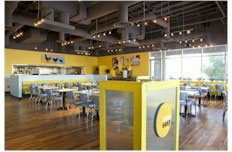 Over Easy, loved by our devoted patrons and newcomers who had no idea that old favorites could be so amazing. Because our food ranges from traditional comfort to contemporary creative, food critics and fans disagree on what is the true "signature dish." However, a recent issue (july/august 2010) of food network magazine declared that our namesake dish - "over easy" - is their top pick for breakfast in the entire state.

Over Easy Makes "Top 50" Restaurants in Arizona Foothills Magazine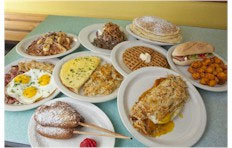 This exceptional restaurant gives a contemporary flare to the classic eats that breakfast-lovers have grown to adore. Open from 6:30 a.m. to 2 p.m., Over Easy is the perfect place for both early birds and late risers to satisfy their breakfast cravings. Try "the over easy," for an extra kick of flavor that made this restaurant so well-known.
When over easy opened in 2008, it was immediately heralded as the best breakfast in Phoenix. Critics and customers alike were wowed by the from scratch cooking, throw back décor and Midwestern hospitality
.
Featured on Food Network and in Bon Apetite Magazine, as well as numerous local media outlets, over easy continues to be a favorite for eggs, pancakes and a special twist on the classics. Benedicts, banana pecan French toast, whole grain pancakes and homemade protein bars highlight a menu of American breakfast and brunch items, paired with all the usual suspects. Fluffy omelets, blueberry pancakes, iced coffee, fresh squeezed juice and more.
We know you'll agree that owning an Over Easy® franchise is a tremendous opportunity.
Why Over Easy?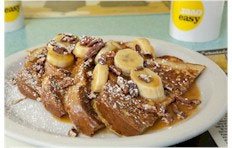 We've created a powerful brand with a unique menu to give our owner/operator franchise partners a winning business model.
How is Over Easy® Different and Better Than The Other Food Franchises?
Chef Aaron May is well-known for his contributions to the menus of a number of elite phoenix area restaurants. This is a unique business model with relatively little direct competition. We've developed and operate successful restaurants ourselves! We're in the business with our franchise partners. Fantastic media coverage - featured on the food network multiple times. As an Over Easy® owner/operator, you're part of a growing brand that stands out from the competition!
Franchise Programs
Real estate site selection & build-out
Architectural design
Fixtures, furniture and equipment manual
Branding - marketing and advertising
Grand opening launch program
2 week training program - topics include
Staffing - front and back of house
Accounting
Training of all positions front and back of house
Marketing & promotion
Daily operations
Costs & Criteria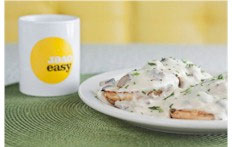 The initial franchise fee to join the Over Easy franchise team is $40,000 for a single restaurant. Franchise fees are reduced if purchasing multiple units at time of signing. The total investment necessary to begin operation of an Over Easy franchise is $190,000 to $400,000, (real estate and tenant improvement costs will vary greatly from city to city).
Over Easy has an excellent real estate conversion program! We can convert an existing location, saving time and money! You must have $150k in liquid assets and good credit.