The Paris Baguette Mission
We want to cater to the masses as a world-class, global organization, while staying rooted in the local communities around us. We want to bring new levels of satisfaction to people who experience our brand as we continue to create new products and implement innovative ideas for them in the future.
We strive to bring people joy through our vibrant atmosphere, delicious products and, most importantly, our excellent customer service. We refuse to settle for mediocrity. Our goal is to provide a unique and special experience for everyone who walks through our doors.
A World-Class Local Bakery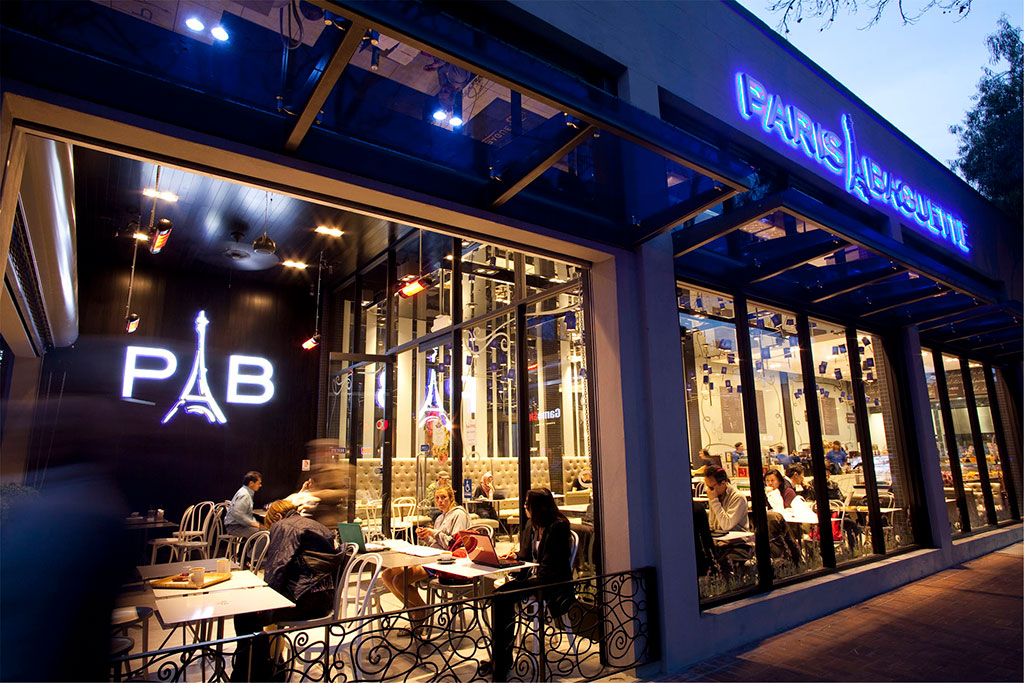 Wherever we go in the world, Paris Baguette delivers the authenticity of a French café by following this simple formula: Delicious breads and pastries baked locally + a vibrant coffeehouse atmosphere + excellent service. Sprinkle in some global flavors, additional menu options and neighborhood spirit and you have a world-class concept that works nearly anywhere.
Our parent company, Paris Croissant Co., Ltd., has been selling dough and other restaurant supplies to company-owned and franchised stores in the United States and in other countries since 1986. SPC Group, a subsidiary of Paris Croissant, can actually trace its roots back to 1945, as a small confectionery in South Korea. With a rich history in foodservice, the first Paris Baguette location opened in 1988. The Paris Baguette system has since grown to include over 3,000 corporate and franchised stores, with presence across multiple countries in Asia as well as in Europe. Our cafés arrived in the Los Angeles area a decade ago, and our reach has since extended to the East Coast with over three dozen locations now in the U.S. Needless to say, we have had a lot time and experience to refine our philosophy and our recipes, and it has been a rewarding journey that has prepared us for further growth through our franchise program.
Our goal is to continue to be a trend-setting café while perfecting the high standards and corporate culture that have brought us this far. We'll do this by helping our franchisees create lively and stylish settings to introduce locals to our delicious fare and by offering personal and professional development opportunities to all Paris Baguette franchise owners. A Paris Baguette location should be a happy place to visit and to work.
Come with us as we expand our footprint in the U.S. market and embrace innovation in all our global locations. A Paris Baguette franchise can provide a fresh, internationally-inspired destination for your community--and a new direction for your professional and personal life.
French, Fresh, and Stylish
Paris Baguette serves a variety of fresh and delicious signature menu items.
From the Traditional...
French pastries & cakes
Baguettes & sandwiches
Espresso & coffee drinks
To the not so Traditional...
Sweet rice doughnuts
Green tea mojitos
Croquettes
Royal pudding (in its own keepsake milk bottle!)
And many more globally inspired treats in our unique, convenient environment!
And many more globally inspired treats in our unique, convenient environment!
"We regard France as the spiritual home of our bakery products."
That's how Paris Baguette founder Young In Hur has described the core of our concept. From traditional baking techniques to Parisian décor and presentation, the Paris Baguette experience is authentically French ... but with innovative touches that keep it fresh.
Think of a bakery and café concept that combines the best of all worlds--that's your Paris Baguette franchise. Customers will be treated to gorgeous display cases overflowing with a variety of perfectly baked bread and pastries, artful layer cakes and rich, fruity desserts. Your expert baristas will craft hot or iced espresso drinks to go with customers' selections, and your staff will prepare meals of savory baguette and croissant sandwiches, house made soups, salads and more. All of this is in a sophisticated setting where servers in Breton striped shirts and berets anticipate every guest's needs; where bakers can be seen tending their ovens and dough; and where artistically-designed custom packaging further conveys the Paris Baguette brand identity.
Paris Baguette has a contemporary feel that sets it apart from tradition and from other cafés. For instance, in some locations, customers can use tongs to select the exact pastries or other fresh items they want, filling their trays at their own pace; in others, they can be served by staff. Most of your menu options will be available for grab-and-go, but settling in with a cup of carefully sourced coffee is always encouraged at Paris Baguette. Globally-inspired confections, packaged gift items, monthly and seasonal offerings give you multiple potential ways to build on the Paris Baguette concept.
A Fully Developed, Refined Brand
The distinctive neon Paris Baguette sign, complete with Eiffel Tower logo, communicates high quality, consistency and a memorable experience to a broad customer base in over 3,000 locations in Asia and North America. European-style coffee and pastries may be familiar to consumers, but Paris Baguette takes that model to new levels with the variety on our menus, the meticulous quality of our baked goods and our attentive customer service.
Franchisees will also appreciate Paris Baguette's positive corporate culture and long history of product refinement and innovation. We believe we've created an efficient, easy-to-replicate concept that will let you focus on providing a comfortable spot for food lovers in your community, Francophile or not.
Innovations in Indulgence
The saying "there's always room for dessert" has taken on new meaning in the 21st century. While dessert used to be an after-dinner treat, it has become an all-day phenomenon as the definition of dessert expands to include breakfast pastries and personal-sized, anytime treats.[3] The busy ovens of your Paris Baguette franchise and service across multiple day parts will help you satisfy the public's appetite throughout the day--and possibly create some new cravings.
The French have long set a high standard for baked indulgences. But these days much of the innovation and growth in the patisserie field is being driven by bakeries like Paris Baguette that are experimenting with new flavors and forms.[4] And hybrid pastries (such as Paris Baguette's unique tiramisu pastry) are "rapidly en route to being the next big thing in baked goods."[5] With our inventive international twists on French baking, Paris Baguette is clearly onto a sweet trend! And of course, we're all about savory flavors too with fresh and creative sandwiches, soups, salads and other café/bistro fare available for customers.
Flexibility on a Firm Foundation
Opening an on-trend food business is exciting enough--but to be able to build your franchise on a firm, existing foundation while tailoring it to your strengths and your community's needs is a recipe for fulfillment! There are many benefits to joining the Paris Baguette franchise program:
A global organization with decades of experience in foodservice and menu development, store operations and growth across multiple continents.
A corporate team that's committed to innovating new ideas and new products to continually increase customer satisfaction.
A strong, time-tested concept with internationally recognized branding and centralized systems for kitchen procedures, quality control and marketing.
Flexible formats, from approximately 2,500-square-foot bakeries to more compact café versions that work in a variety of locations, including malls, suburban shopping centers, urban cores, residential and commercial settings and many others.
Numerous ways to maximize revenue potential: A wide-ranging menu with morning, noon and night appeal; relaxed dine-in space and handy take-out service; gift cakes; seasonal specialties; and more.
The choice of actively owning and operating a single store or developing a group of stores: Paris Baguette has a franchise opportunity for a variety of franchise ownership profiles.
Imagine creating a new focal point in your community that's a bright spot in your customers' days. If you like the idea of purveying premium baked goods and beverages in a comfortable and stylish gathering place, you may be ready to seize the opportunity of owning a Paris Baguette franchise!