Exciting things are happening at Shoney's.
The Shoney's brand is an American icon. For generations, it's been the quintessential place to celebrate the everyday victories and moments in life. The "go to" place where guests of all ages can enjoy wonderful food at a great value.
Now we're introducing Shoney's to a whole new generation with newly redesigned restaurants, a renewed dedication to amazing food, and the introduction of Shoney's On The Go,® a gourmet, fast-casual version of the Shoney's we all know and love.
Shoney's menu has always been filled with a wide variety of family pleasing meals. Our culinary team has decades of experience and is dedicated to keeping our menu fresh and exciting by carefully selecting fresh ingredients and creating meals to satisfy every guest.
Shoney's restaurants are designed to be highly visible, comfortable and inviting to patrons. Combined with our new menu, updated restaurant look and feel, and system innovations, Shoney's provides a great opportunity for entrepreneurs. With the Shoney's team, you'll have the support of many, and together we'll all build something great.
Since 1947, Shoney's has had a rich history as America's favorite family restaurant. With restaurants in 16 states, we are one of the nation's top casual dining destinations and growing. Today, we are exploring development opportunities in many new markets. If you've always wanted to be a part of an iconic brand, now's your chance.

Get to know SHONEY'S
Great Brand Recognition
Family Friendly Restaurants
Top Casual Dining Destination
Full Service Catering for Corporate / Social Events
Traditional American Cooking with a Southern Flair
Celebrating 69 years in business
150+ locations in 16 states
Our company's three pillars are innovation, simplicity and giving back to the community. We are focused on enhancing our guests' dining experience and supporting our franchise operators with the tools they need to succeed. Participating in our local communities is good business and allows us to share our success.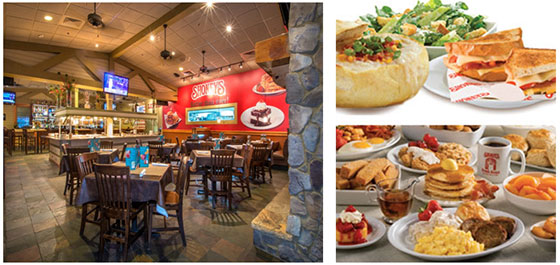 Serving our guests is #1
By serving wonderful food that is fresh and satisfying and providing friendly, attentive service, we keep our guests coming back.
Our warm welcome and fun atmosphere makes Shoney's the 'Go To' place to celebrate special or every day moments. Did you know that we also offer catering and hospitality services to help with planning that perfect corporate or social event? We are passionate about sharing our restaurant and hospitality 'know how' to help our patrons create memorable events for important business or social occasions.
Why become a Shoney's franchisee?
Your choice of Shoney's or Shoney's On The Go restaurant concept
Site selection and restaurant development guidance
Restaurant management and operations support
Specialized classroom and restaurant training for operators, managers and staff
Extensive marketing and communications support
Ongoing promotions with strong brand positioning across every touch point - email, social, mobile and web to reach present and future guests
Culinary expertise in menu planning, food preparation and catering
We are active in the communities we serve
We are proud to support local organizations such as, Boy Scouts of America, Habitat for Humanity, Learning for Life Navigators Program, Metropolitan Nashville Public Schools, Metropolitan Nashville Police Department, National Restaurant Education Foundation and more by participating and promoting many of their special activities. Check for 'Community News' updates on our website
Have you been to a Shoney's lately?
Contact us today to find out more about becoming a Shoney's franchisee. We look forward to meeting entrepreneurs like you who share our values and are ready to bring Shoney's to a whole new generation of satisfied guests.
This information is not intended as an offer to sell, or the solicitation of an offer to buy, a franchise. It is for information purposes only. An offering is made only by a Franchise Disclosure Document. There are 15 states that regulate the offer and sale of franchises - California, Hawaii, Illinois, Indiana, Maryland, Michigan, Minnesota, New York, North Dakota, Oregon, Rhode Island, South Dakota, Virginia, Washington, and Wisconsin. If you are a resident of one of these states or are receiving this message in one of these states, we will not offer you a franchise unless and until we have complied with any applicable pre-sale registration and/or disclosure requirements in the applicable state. ©2014 Shoney's North America, LLC, 1717 Elm Hill Pike, Suite B-1, Nashville TN 37210