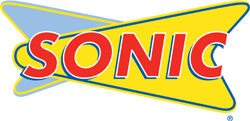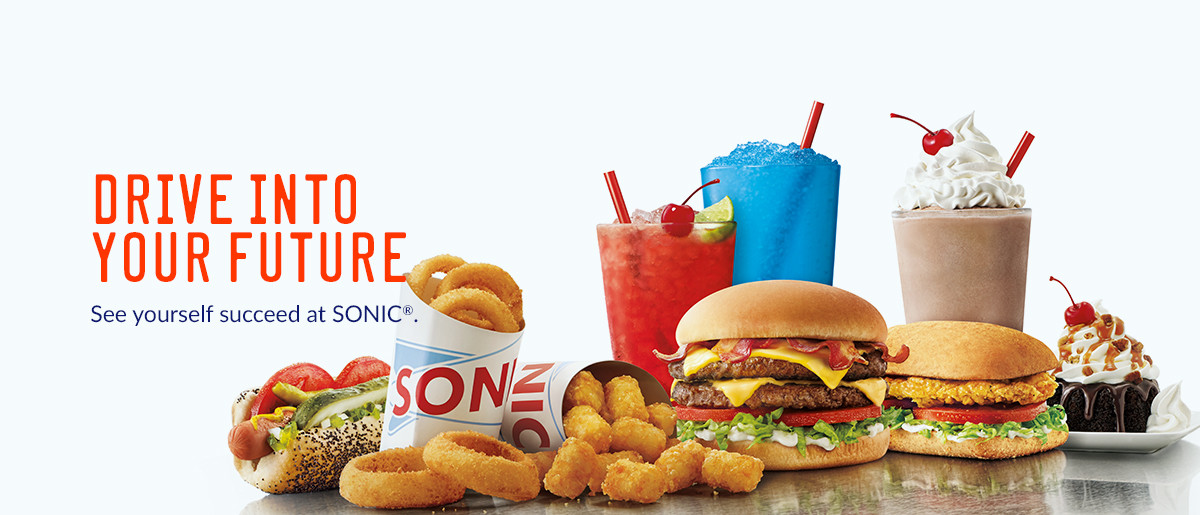 OUR CUSTOMERS CAN'T HELP FALLING IN LOVE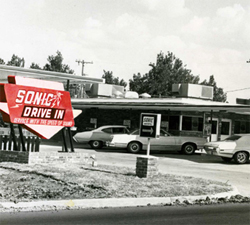 As the nation's largest drive-in chain, SONIC® has successfully served up hot, fresh, delicious made-to-order food for more than 60 year. SONIC's founder, Troy Smith Sr. opened up his first drive-in in 1953 in Shawnee, OK, under the "Top Hat Drive-in" name. It was just a root beer stand, but he had big dreams. He expanded on his own before teaming up with Charlie Pappe. In 1959, the SONIC Drive-in name was born and franchising began. Today, we franchise and operate more than 3500 SONIC Drive-ins in nearly every state. SONIC® is authentically mid-century and modern, a classic that continues to innovate.
OUR CONCEPT:
At a typical SONIC Drive-In, customers park in colorful canopy-covered spaces and push our iconic red button when they are ready to place their orders using our speaker system. Friendly Carhops deliver our delicious food and drinks to our customers car-side, but at most SONIC locations, customers may also enjoy patio and indoor patio dining as well drive-thru service. Our drive-in experience, together with a unique menu and personalized service position us as one of the most differentiated concepts in the Quick Service Restaurant (QSR) industry. This is how we SONIC®!
OUR MENU: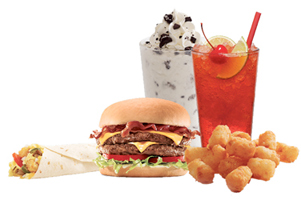 With a menu that offers so much variety, SONIC'S customers keep coming back for more during all of SONIC's five balanced and distinct dayparts. Unlike other concepts that have one or two strong dayparts, our SONIC brand treasures work for you throughout the day. Tasty breakfast, lunch, afternoon, dinner and evening menu items are served fresh all day.
HOW WILL YOU SONIC®?



SONIC Traditional Drive-In Model:
108'W x 262'D; 14-16 Dining Stalls with Drive-Thru




SONIC Conversion Model:
Existing Kitchen, Dining Area and Restrooms utilized




SONIC Enclosed Patio Model:
131'W x 213'D; 14-16 Dining Stalls with Drive-Thru




SONIC Mall/Airport Model:
22'W x 25'D; Pass-Thru Door;
Full Dessert Line behind Service Counter
Smiling Happy People
NETWORK. TEAM. SUCCESS.
SONIC® is all about relationships – relationships with our customers, employees, fellow franchisees and vendor partners. The SONIC culture is a collaborative one focused on teamwork and building lasting relationships every step of the way.
SONIC® guides you in securing financing, provides franchisee training and encourages franchisee mentorships. We care about your future and helping you reach your goals.
With at least 12% company drive-ins, we share a mutual interest in staying current on the latest restaurant and product innovations and ensuring customer satisfaction.
Thank you for your interest in a SONIC franchise!
Please fill out the Request Form and click the "Submit Request" button. You'll hear from us shortly regarding your franchise information request.