Partner with a Leader in the Truck Washing Industry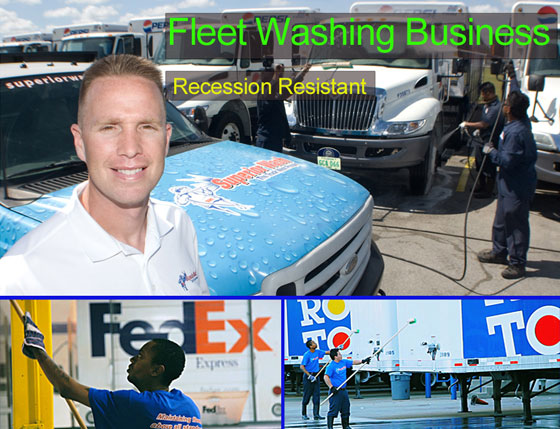 At Last, an Inexpensive Business in a Recession Resistant Industry
With a spotless 25+ year combined record, Superior Wash is an experienced leader in truck washing services which translates into satisfaction, safety and a reassurance that we do a professional job of caring for the vehicles that care for our clients' businesses. Superior Wash is now one of the fastest growing franchises because of the strong relationship we have built with out clients based on a simple concept. All it takes is hard work and exceptional customer service.
A Recession-Proof Business with over 1000 customers across the USA
Many of our clients are large corporations like FedEx, COCA-COLA, BUDWEISER, RYDER, AT&T ETC.. Companies of that size budget for our services years in advance. Keeping the vehicles that boast their company's brand name clean is crucial to their image. Our washing techniques also prevent detrimental rust damage. Most goods and services are transported via trucks and vans at some point during the distribution process, so our services will always be in high demand regardless of economic factors.
Our Contacts and 25 + Years of Experience in Fleet Washing Fast Tracks our Franchisees Growth
AVERAGE SALES OF FRANCHISEES BY FIFTHS FOR THE 2013 Calendar Year
Here's a look at Item 19 from our Franchise Disclosure Document, based on billing reports from our franchise owners in 2013. This report does not include franchisees who have been in our systems less than 12 months.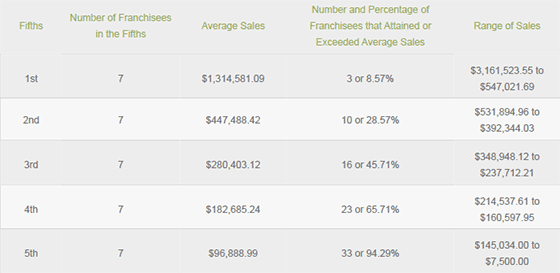 AVERAGE SALES OF FRANCHISEES FOR THE 2013 Calendar Year
Benefits of the Superior Wash franchise
Consistent, continuous cash flow. Most accounts are weekly, bi-monthly or monthly.
Customer retention. Most customers stay with you which means you'll grow every year!
The business can be run from your home or office. All crews go out in the "field" to get the job done.
Mobile means your advertising isn't focused on getting customers to come to you, rather you go to them.
Make money and keep it. Profit margins are high. There are few expenses.
Superior Wash Inc (SWI) provides outstanding support for its franchise network, including:
Complete training at its Ft Lauderdale, Florida facility.
All accounting services including invoicing and collecting your revenue with our cash-flow program. SWI directly deposits your receivables your business bank account weekly and then collects the money on your behalf.
Our National Account list from which to solicit business and ensure that contact is made with every one of our accounts.
Quotes, written sales proposals and contact with anyone to whom you want to send a proposal.
24/7 direct connect to our support staff when needing consultation, supplies, troubleshooting and more.
A complete equipment package for you to immediately start washing trucks and providing water recovery.
Immediately after you enter our Franchisee Partnership Program:
Our corporate sales team will go to work for you on helping to establish our national accounts in your territory.
After your training, our account sales force will arrive in your area to establish local accounts for your business for a total of 2 weeks. Within 30-45 days after starting your Superior Wash business (on average), you should have about 10-40% of your accounts for your first truck established for you by our Franchisee Support Center staff.*
Anyone who has the drive and motivation can succeed. It's time to go into business for yourself! Start by making the right decision.

This web page does not constitute a franchise offering or an offer to sell a franchise. A franchise offering can be made by us only in a state if we are first registered, excluded, exempted or otherwise qualified to offer franchises in that state, and only if we provide you with an appropriate franchise disclosure document.