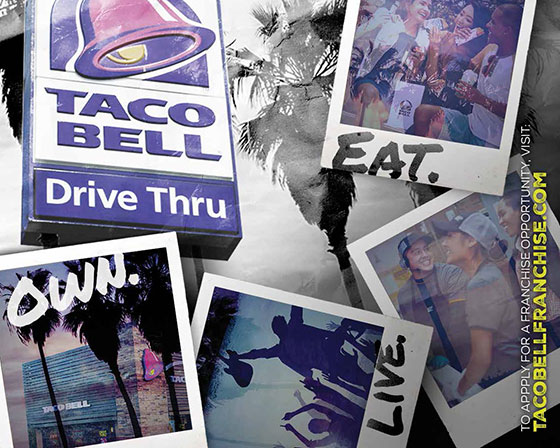 Do You Have what it takes to be part of LIVE MÁS
Multi-unit Operations Background
Restaurant, retail and/or gas convenience experience
Geographically Desirable
Open to locate in a strategic market and have local market knowledge
Experience/Skills
Run a successfull business, with p/l responsibility, and development experience
Team Builder
Experience in staffing and retaining employees, demonstrated leadership skills
A Culture Fit With Taco Bell
Commitment to world class operations with strong recognition mindset
Financial Strength
Minimum of $750,000 liquid assets and $1,500,000 net worth

About Taco Bell
Taco Bell Corp., a subsidiary of Yum! Brands, Inc., (NYSE: YUM), is the nation's leading Mexican-inspired quick serve restaurant (QSR). Taco Bell serves made-to-order and customizable tacos, burritos, and specialties such as the exclusive Doritos® Locos Tacos, gourmet inspired Cantina Bell® Menu and lower calorie Fresco Menu. The company encourages customers to "Live Más," both through its food and in ways such as its Feed the Beat® music program and nonprofit organization, the Taco Bell Foundation for Teens™. Taco Bell and its more than 350 restaurant franchise organizations have nearly 6,000 restaurants across the United States that proudly serve more than 36 million customers every week.

Live Más
Live Más is more than just a tagline; it's a way of life at Taco Bell. Más is doing more and expecting more. Más is giving more. Más is living life and getting a little more out of every day. That's the spirit that drove Glen Bell when he started Taco Bell in 1962, and that spirit lives at the heart of our fast food franchise organization today. We passionately serve food and create experiences that help people get a little more out of their day (and night).
Advantages Of Being A Taco Bell Franchisee
Access to nationally and internationally known products, as well as a proven operating system that sets you up to compete in multi-unit Mexican restaurant franchising
Strong brand awareness of the nation's leading Mexican-inspired QSR franchise
A peer network of more than 350 franchisees, more than 35% of which have more than 25 years of experience
More than fifty years of Taco Bell multi-unit Mexican franchise support and many programs to help you compete within the QSR and franchise industries
Access to the United Foodservice Purchasing Cooperative (UFPC), the largest food-buying co-op in the foodservice industry
Great Franchisees Bring Our Brands to Life
21 years ago Lina Alvarado was a successful real estate developer working on a shopping center. Then, she built her first Taco Bell. It performed so well in its first year that Linda decide to focus on Franchising. Today she owns and operates more than 130 Taco Bell, Pizza Hut, KFC and Long John Silver's restaurants in four states. We have immediate opportunities available for qualified franchisees.
Training And Support
Taco Bell believes that quality training and support are the foundation to building your multi-unit Mexican restaurant franchise business. As you enter the Taco Bell Mexican food franchise system, you will have four primary areas of emphasis:
Establishing key contacts
Building your restaurant
Building your team
Setting up a strong start for the restaurant franchise

Taco Bell provides training for franchisees and restaurant managers, including brand education as well as various levels of Mexican restaurant franchise training. Lasting, six to eight weeks and consisting of web-based, on-the-job and classroom training, the program is taught by a certified Taco Bell training instructor in a certified Taco Bell training restaurant. This education should be completed at least six weeks prior to the planned opening of your Mexican food franchise.*
Taco Bell believes that ongoing support is also necessary for your Mexican restaurant franchise, so we provide coaching, recognition and continuous backing for our franchisees. This team also coordinates product and procedure rollouts regularly during the course of the year. Taco Bell Corporate support includes:
Recommendations on how to conduct a Grand Opening while being reimbursed up to $5,000 of documented expenses
An annual convention featuring a full-day of presentations from Taco Bell Brand Leadership, Keynote Addresses, and many choices for continuing professional education opportunities for your Mexican franchise
Regional association membership - meetings focus more closely on topics such as operations and team training
Regular Town Hall Calls held by the Taco Bell Leadership Team to keep Taco Bell franchisees in the know with multi-unit restaurant franchise information while giving them the opportunity to ask questions on important front line issues
A wide range of optional continuing education courses through Yum! University
* Taco Bell franchisees are responsible for all costs incurred for travel and lodging of the management team. Some training is mandatory and failure to complete could result in non-issuance of franchise agreement.
This web page does not constitute a franchise offering or an offer to sell a franchise. A franchise offering can be made by us only in a state if we are first registered, excluded, exempted or otherwise qualified to offer franchises in that state, and only if we provide you with an appropriate franchise disclosure document.