A Fresh Opportunity...
The Lowest Start-Up Investment In The Industry
Low Franchise Fee, Only $15,000
Descending Royalty Fee Structure
3rd Party Financing Available
The success of the Fuzzy Peach is dependent on the success of our franchisees. Success to us is defined by return on investment. We are the market leader in opening attractive, cost-effective locations. The more money we can save you upfront, the more you can make in the long run.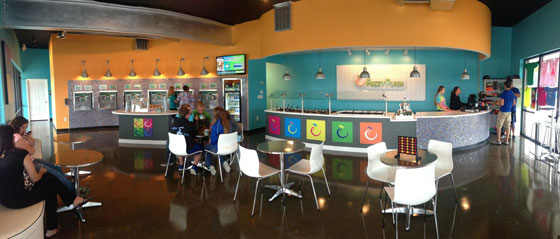 The Fuzzy Peach brand...
The Best Products
Fun And Hip Looking Stores
Premium Coffee And Hot Chocolate Bar
Catering And Fundraising Opportunities
The Fuzzy Peach brand is the most fun and unique in the industry. Don't take our word for it. Check us out on Instagram, Vine, Youtube, Twitter and Facebook to find out what we are all about. Fuzzy Peach product offerings are unique in a crowded industry. Our customers love our proprietary frozen yogurt offerings including Chocolate Delight, Mint to Be, Banana Cream Pie, Berrylicious, or Royal Red Velvet. We offer over 100 yogurt options and compliment it with an extensive toppings bar that includes 50+ unique and delicious toppings.

Join The Peach Pack...
When you join the Fuzzy Peach, you become a part of our Peach Pack family. We are a team and pride ourselves on providing the best products, world-class customer service and the most fun and inviting atmospheres. Fuzzy Peach is more than just a healthy, dessert alternative. In 2012, the non-profit arm of Fuzzy Peach was launched: Peach, Love and Happiness. Without the support of the local communities there would be no Fuzzy Peach. Please contact us for more information and allow us to show you what Fuzzy Peach is all about.
This web page does not constitute a franchise offering or an offer to sell a franchise. A franchise offering can be made by us only in a state if we are first registered, excluded, exempted or otherwise qualified to offer franchises in that state, and only if we provide you with an appropriate franchise disclosure document.