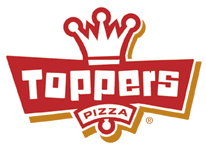 About 20 years ago, we started a pizza joint in the small, utterly pleasant town of Whitewater, WI. There, we tirelessly perfected our model. We grew. Added a few more locations, and before long, we were in Illinois, Minnesota, Indiana, Michigan, Ohio, and North Carolina. From there, we continued to perfect our model, and got to where we are now: Ready to take this thing to the next level. Why should you care about all this? Here's why:
Amazing product. Not to toot our own horn, but our Topperstix and Pizza are delicious! We wouldn't be where we are without them.
Great unit level economics! Our AUVs kick ass!
Complete Item 19 Financial Performance Representation.
Small footprint: 1400 - 1600 sq ft.
We've got great markets and locations available.
Marketing Machine. We know who our customer is and all our marketing is directed at them.
Multi-store area development territories available.
With 20 years experience, we know what we're doing.
So, what makes us so successful? Well, it starts with our product. Like any good franchise concept, the product has to be great for it to work. We make our dough in-house, daily. We have a wide variety of unique, signature House Pizzas. And we have a big-time differentiator with our Topperstix™, an item people go nuts over. We're proud of our product and once you try it, you'll understand why.
Of course, we realize there are plenty of places out there claiming to have good tasting pizza. So what makes us stand out from the rest? Our marketing. All our efforts are directed at a specific niche. We talk with them, not at them. We engage them. We become one of them. But all this is just the tip of the iceberg. There's so much behind our success.
For more information on a Topper's Pizza Franchise please fill out the request form on the side of this page
Available Territories: WI, MN, MI, IL, OH, KY, IA, TX, NE, NC, TN, AR
*new markets available, inquire today!
This information is not intended as an offer to sell, or the solicitation of an offer to buy, a franchise. It is for information purposes only. Currently, the following states regulate the offer and sale of franchises: California, Hawaii, Illinois, Indiana, Maryland, Michigan, Minnesota, New York, North Dakota, Oregon, Rhode Island, South Dakota, Virginia, Washington, and Wisconsin. If you are a resident of one of these states or countries, we will not offer you a franchise unless and until we have complied with applicable pre-sale registration and disclosure requirements in your jurisdiction.