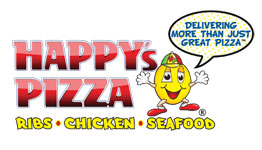 Happy's Pizza is proud to announce that we are currently offering corporate/ franchisee partnership opportunities to qualified candidates. In addition we are still offering a flat rate royalty structure until we reach our 200th store (we currently have 110 awarded). This will be a flat rate of only $1500 per month versus the 4% royalty.
Type of Business
Happy's Pizza is in the fast casual restaurant business and we never forget it! Even though our menu is extensive, every item is prepared within 10-15 minutes. Speed makes our customers happy which makes for a quick return on investment
.
Company History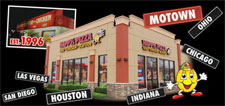 The first store, which opened its, doors in 1996, offered diners an extensive menu featuring ribs, chicken, hand battered shrimp, pasta, salads and subs, as well as the namesake, Happy's Pizza. Due to its popularity, Happy's Pizza quickly became a household name in Michigan and they didn't stop there. Happy's Pizza currently has about 90 stores open in Michigan, Ohio, Illinois, Indiana, Nevada & California, and 20 stores under construction in those and other states. Each new store is a work of art and includes Happy's iconic build out including granite counter tops, neon lights, ceramic tiling and Venetian plaster.
In addition to their growth focused idles and exceptional support and training, Happy's Pizza is proud to offer its hands to the community and partakes in many different philanthropic activities. These include an annual "Coats for Kids" and bicycle program, as well as working hand and hand with community health departments to offer pizza party for school based vaccination initiatives.
Named to Restaurant Magazine's Top 50 Franchises in 2010, Happy's Pizza is on the rise and continues to proudly be "Delivering more than just great pizza".
Benefits of Owning Your Franchise
The Happy's Advantage:
Why Choose Happys: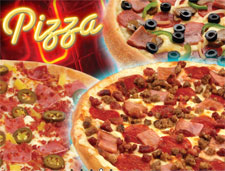 Founded on a busy street corner in Detroit, MI, Happy's Pizza is now a Top 50 Growing restaurant brand. Happy's Pizza is continually setting the standard for variety, affordability and quality in our delicious dining selections. This, along with excellent customer service and commitment to community make the Happy's Pizza experience second to none. With a proven system that includes ongoing training and support, Happy's Pizza franchisees are more than geared for success, they're Happy! Happy's Pizza has fantastic unit economics, which can be found outlined throughout our transparent FDD and many regions still available for new franchisees throughout the country! Don't your opportunity to "Own a Happy's, Be Happy"!
Pizza Industry Growth Restaurant franchising is a $60 billion a year industry and pizza accounts for one half of all Quick Service restaurant sales. Add to that, ribs, chicken and seafood and we've got something for everyone in the family any day of the week.

Training and Support
University of HAPPY'S PIZZA© (Training)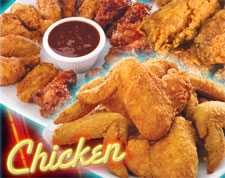 While each of our stores undergoes Happy's classic build out, operators gain admission to The University of Happy's Pizza. After 40 hours of training in our corporate kitchen and 60-90 days of in-store management training at an open location, graduates are completely groomed for success. Once a store is open, our support staff helps you with marketing, inventory control, staffing, prep and food updates.
Support
At Happy's Pizza we are proud to provide our franchisees with a variety of support including site selection, lease negotiations assistance, equipment, fixture, signage and inventory suppliers and even construction standards and assistance. In addition to this, once a new store begins operations, Happy's Pizza provides all stores with an operations manual, continuous updates of our specifications and process and operational advice and assistance by telephone and Internet.
Promotion Happy
We are one of the only restaurants with a toll-free vanity number and we know how to use it. 800 BE HAPPY. Our in-house ad agency will customize individual marketing plans for every store. It starts with coming soon banners, job fairs and a big grand opening push. Once operations are running smoothly, we turn up the marketing machine with TV. Radio, direct mail, mobile and on-line promotions connected with our growing social web presence.
Real Estate Selection:
Happy's Pizza may assist in real estate selection, and final selection must be approved by our office.
Does Corporate Assist in Site Selection:
Yes
Does Corporate Provide Advertising and Marketing (Local, National):
Yes
Does Corporate Provide Continued Training:
Yes
Franchise Requirements
We are looking for a franchisee that possesses an entreprenueral spirit and is a strong operator. We have found success with owner operators or those that use managers, but are well involved with their business.
Location Requirements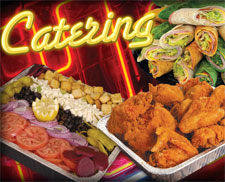 Location, Location, Location!
When we're not smoking ribs, we're smoking out new locations. Our size and reputation gives new owners instant leverage in real estate negotiations and financing. Our team of savvy store scouts analyze all the element for success such as population density, traffic flow and demographics.
Top Target Market Areas
Although we are equipped for growth throughout the United States, we currently have a focus on:
Michigan, Ohio, Indiana, Illinois, Kentucky, Georgia, Florida, Arizona, Nevada & California. We cannot franchise our concept in Iowa, Wyoming, Nebraska, South Dakota or North Dakota.
Fox 2 News Headlines