At Hardee's®, our next success story is you. We consistently out-deliver the competition with a menu strategy that focuses on developing premium, sit-down restaurant-quality menu items that offer the convenience and value of fast food. With our consistent track record of AUV sales growth and solid unit economics, we run the business so our Franchisees can be successful.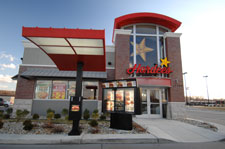 Hardee's is celebrating over 50 years of experience in the quick-service industry and have become the premier franchisors in the 'better burger' space, a category we practically invented! Entrepreneur Magazine ranked Hardee's among the Top 3 Hamburger Franchises in the country for 2012. Our premium menu satisfies the tastes of young, hungry customers for breakfast, lunch and dinner. Hardee's restaurants can be dual-branded with Red Burrito®, adding a Mexican-style menu to broaden appeal and increase transactions.
What began as a lone hot dog cart in Los Angeles, Calif. in 1941 is today a wholly owned subsidiary of CKE Restaurants, Inc. of Carpinteria, Calif. As of the end of fiscal 2012, the Company, through its subsidiaries, had a total of 3,249 franchised, licensed or company-operated restaurants in 42 states and in 25 countries, and 1,927 Hardee's restaurants.
Our marketing strategy has always been as innovative and focused as our business strategy, resulting in two of the strongest and most recognized brands in the industry. TV ads for Hardee's are designed to be seen and remembered, with cutting-edge commercials that are humorous and provocative.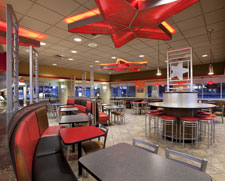 Our brands have also led the way in social media marketing to build large followings and connect with fans on popular sites like Facebook and Twitter.
Franchise growth is the future of the Hardee's brand. Franchisees play a major role in the success of our brand, and we believe in maintaining strong business relationships with our Franchisees, listening to their ideas and offering outstanding support. We are dedicated to helping Franchisees build growing restaurant operations that are sustainable for the long term. To this end, the strategy and core positioning of the Hardee's brand is oriented to building top-line sales that support franchise profitability via best-in-class products, service and marketing. With best-in-class menus, innovative systems and outstanding brand recognition, Hardee's is poised for sustained growth around the world. We invite you to call us or visit our website to learn more about our premium franchise opportunity.