Achieve your personal and professional goals while
providing a valuable service to the families in your community.
Make a difference in their lives and yours.
With a Kiddie Academy® average revenue $1,261,672* and average gross profit $205,616*, your financial goals could be within reach.
Why Franchise with Kiddie Academy?
Growing demand for high quality childcare with dual income & single parents
Comprehensive business support & model
Flexible weekday schedule
Ability to either own or lease real estate
Concept Statement:
At Kiddie Academy®, we awaken the possibilities through nurturing, learning and fun. Our curriculum incorporates character development and life skills, reinforced with our family style dining and creative play.
Start-up Assistance:

Kiddie Academy® offers a variety of third party financing options and is registered with the SBA registry and the VetFran program.
Our multi-step development process supports you through the steps of securing financing, site selection, construction, licensing, training, pre-launch and ramp-up.
Academy Design: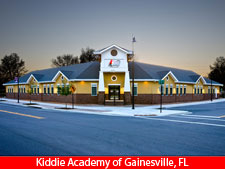 Kiddie Academy's signature building is designed to give families a Kiddie Academy® branded experience while allowing you to design and construct your academy to meet your local codes and marketplace needs within your protected territory. Our expert real estate and construction teams will support your site selection and academy construction activities, whether you choose to pursue a build to suit lease, purchase option, or in-line conversion.
Training and Support:
Kiddie Academy® delivers high quality initial and ongoing training and support, as well as on-going training & refresher programs.
We combine the best in classroom and hands-on learning experiences, ensuring skill acquisition, retention and real world application.
Your assigned Franchise Business Consultant will assist you from opening onward with site visits, additional trainings, best practices sharing & general consultation.
History:

Based in Abingdon, Maryland, Kiddie Academy® has been a leader in childcare education for more than 30 years. As of December 31, 2014 there are currently 132 Kiddie Academy® facilities located in 22 states, 2 company-owned academies.
Criteria:
There is a minimum requirement of $200K liquidity and $550,000 net worth.
*For mature franchised Academies (open at least 24 months) that reported financial information for calendar year ended December 31, 2014. The average gross profit shown is after labor, occupancy (rent) and other miscellaneous expenses have been deducted from average revenue. Additional details on these figures are included in our Franchise Disclosure Document (FDD.)
25 Academies or 40% of the 33 mature academies reporting operated at or above the Average Revenue and Average Gross Profit figure presented above.
This web page does not constitute a franchise offering or an offer to sell a franchise. A franchise offering can be made by us only in a state if we are first registered, excluded, exempted or otherwise qualified to offer franchises in that state, and only if we provide you with an appropriate franchise disclosure document.