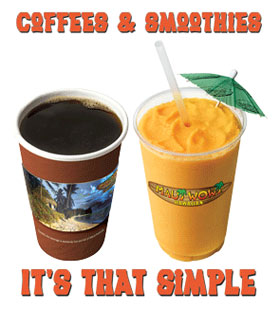 Who says you can't have your smoothie and drink it too? If you're not reaping the rewards from all your hard work at your current job, Maui Wowi's 'ohana (family) is waiting for you to start living the Flip Flop Lifestyle.

Starting a new business can seem like a daunting task, which is why at Maui Wowi we've built our system around the needs of our franchisees. Whether you're looking to dive right in, grow your business while transitioning out of your current career, or looking to stay employed full-time and add some Aloha Spirit to your life on the side, Maui Wowi has the tools to help you build a scalable business at your own pace.
What makes a successful franchisee?
Our franchisees are hard-working, owner-operators driven to earn a great living by following our system; one that's stood the test of time for over 30 years. Our education process is designed for those looking to own a franchise in the immediate future and eager to discover if Maui Wowi is right for them.
Keeping It Simple
Maui Wowi's turnkey process is customized to your needs, giving you the tools and knowledge to prepare you for business ownership. Our comprehensive hands-on training and support programs ensure every new Maui Wowi franchisee has the skills they need to build a successful business.
With no territories, no royalties on proprietary products, and a system designed to keep overhead low, we've kept things simple to make sure you maximize the benefits from all your hard work.
Benefits you'll experience as a Maui Wowi franchisee
Have fun and enjoy the benefits of your hard work
Experience the freedom that comes with being your own boss
Enjoy the flexibility of working when and where you want
Grow at your own pace with our scalable business models
Maui Wowi Hawaiian's Business Models